Cleanup of the Connecticut River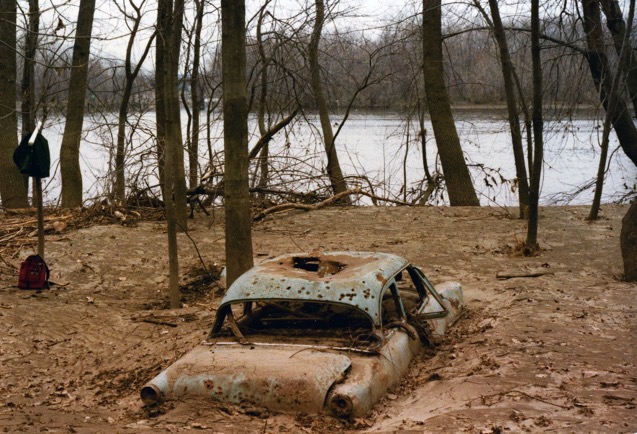 Following a recent major storm, a 500-gallon propane tank floated down the Connecticut River and mushed into the sand just north of Calves Island in Old Lyme, Connecticut. It arrived at high tide and was stuck there for some days. People who ventured near departed quickly after getting a whiff of the propane gas leaking from the tank. A police boat approached the itinerant tank and backed off. An inflatable fireboat came, sniffed, and also backed off. Finally, experts in handling such matters snared the tank and hauled it away.
"White River Junction" had been stenciled on the tank's side in large block letters. There are a dozen dams between White River Junction, Vermont, and Old Lyme, Connecticut. Had this tank made its way over these dams, bouncing and bobbing the 187 miles almost to the river's mouth? Someone who might have known the answer is David Wordell. As a young man, Wordell had navigated the Connecticut River in a small boat in August 1953, powered by a 5 HP Scott-Atwater outboard on a five-day round trip from Essex, Connecticut,  to Holyoke, Massachusetts.  Since then, Mr. Wordell has spent over 50 years boating and exploring every tributary of the beautiful Connecticut River as far north as Hadley, Massachusetts.
In 1968, David, an officer of the Southeastern Connecticut Regional Planning Agency, was appointed as their representative to the newly created Eastern Connecticut Resource Conservation and Development Area, Inc., which was nationally sponsored by the US Soil Conservation & Stabilization Service, a division of the US Department of Agriculture. In 1970, he was elected SCRPA's president, serving until 1984. During the summer of 1981, David and his childhood exploring friend, James Bullock, traveled once again by boat to Wethersfield (CT) Cove. On marine charts, they recorded over a dozen dump sites polluting the water of this beautiful scenic river.
For the rest of the story, join the community and subscribe to Estuary Magazine. The inaugural issue arrives March 1, 2020