By Melody Tierney
Fall is once again upon us. It seems like only yesterday when we were coveting our farmstand tomatoes and berries. Now we turn our attention to the colors and flavors below the ground—the roots—such as potatoes, carrots, parsnips, beets, celery root, sweet potatoes, turnips, and ginger, to name a few.
Edible roots often find their way into almost every course of a meal. They are savory and delicious and carry many benefits—vitamins, minerals, antioxidants, and fiber, with few calories.
Ribs and roots can be enjoyed any time of the year these days but more likely when the wind begins to blow and there's a chill in the air.
I have paired some root vegetables with hearty braised short ribs. All these fragrant aromas will tease your taste buds for hours. It's a wonderful meal to prepare a day in advance and warm the next day for company.
Enjoy the process and the eating!
Braised Beef Short Ribs (Serves 6)
6 beef short ribs (5–7 lbs)
Herb bunch—6 sprigs of thyme, 2 sprigs of rosemary, 1 bay leaf
1 celery stalk
3 teaspoons kosher salt
2 teaspoons coarsely ground black pepper
3 tablespoons of vegetable oil
3 medium carrots, peeled & cut into 1-inch pieces
1 medium onion, roughly chopped
4 shallots, peeled & sliced ¼-inch
5 cloves of garlic, peeled & halved
3 tablespoons of tomato paste
3 tablespoons all-purpose flour
½ cup ruby port
4 cups full-bodied red wine
6 cups veal stock (can substitute beef stock)
Preheat oven to 325°F.
Cut celery in half lengthwise and place the 3 herbs between them; tie with cotton kitchen string. Bind the ribs with kitchen string to secure meat to bone. Season meat with 2 teaspoons each of salt and pepper.
Heat the oil in a large Dutch oven over high heat until it smokes. Brown the ribs in batches well on both sides—about 6 minutes total—removing excess oil in between batches. Reserve ribs on a plate on the side.
Reduce heat to medium and sauté the carrots, onion, shallots, and garlic for 5 minutes or until the onion is soft and slightly browned. Stir in tomato paste for 5 minutes.
Stir in flour to combine. Add port, red wine, and celery-herb bundle. Increase heat to high and cook for about 20 minutes, until liquid is reduced by a third.
Return ribs to pot. Add stock to cover by 1 inch—add water if necessary—and 1 teaspoon salt. Bring to a brisk simmer. Cover and place in oven for 3 hours, stirring occasionally to bring bottom ribs to the top.
When tender, remove to platter and remove strings. Skim off fat and strain into saucepan to remove solids. Simmer over medium heat about 1 hour to reduce by half. You should have about 4 cups remaining. You can serve now or hold for a day in the refrigerator.
To reheat, return ribs and juice to Dutch oven and simmer for 10 minutes.
Serve over mashed potatoes with roasted root vegetables.
Roasted Root Vegetables
¼ cup olive oil
3 garlic cloves, skins removed, crushed
1 celery root, peeled & small dice
3 medium carrots, peeled & small dice
4 parsnips, peeled & small dice
3 celery stalks, peeled & small dice—finely chop the leaves
2 sprigs thyme
3 tablespoons unsalted butter
½ teaspoon salt
¼ teaspoon ground black pepper
2 tablespoons chopped flat leaf parsley
Heat olive oil in large skillet over medium heat. Add garlic and sauté for 2 minutes.
Add diced vegetables, celery leaves, and thyme and cook over high heat for 5 minutes, stirring frequently. Reduce heat to medium and continue to cook and stir for 10 minutes, adding a splash of water midway to produce some steam.
Add butter when nearly finished. Vegetables should be lightly caramelized. Add salt and pepper to taste and stir in parsley.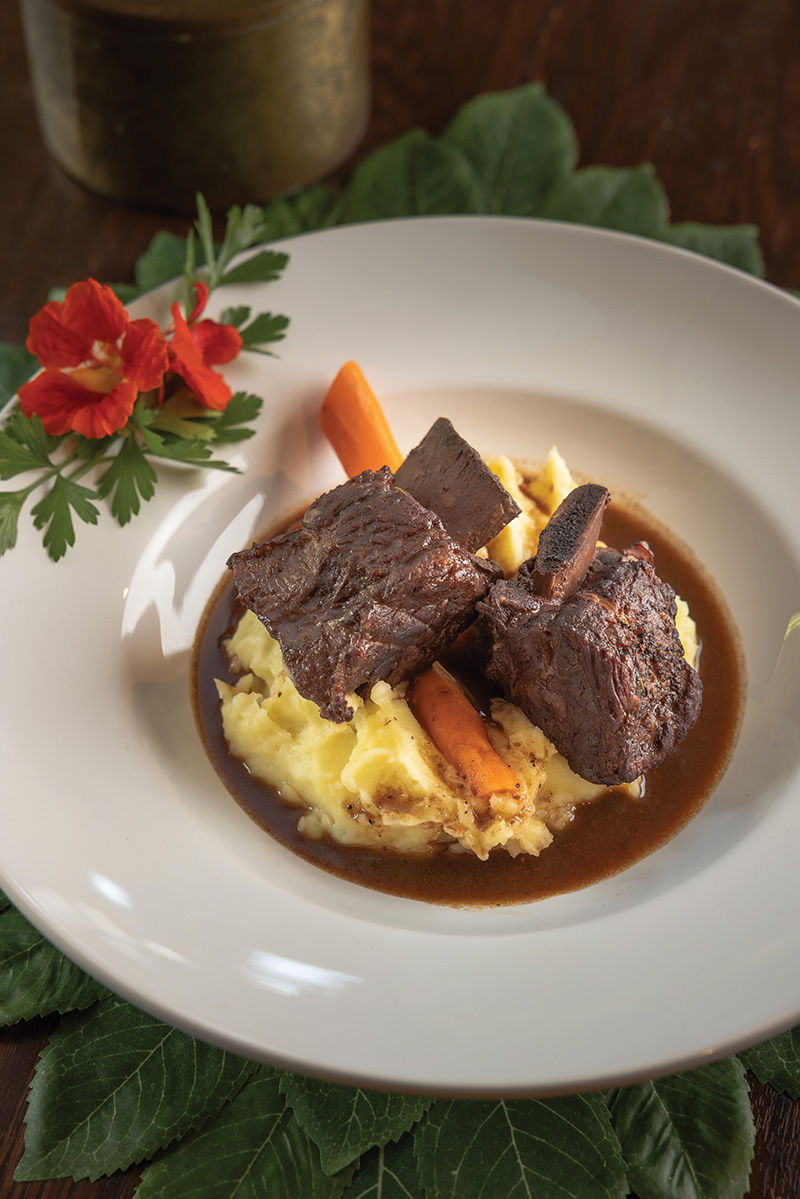 Photo credit: Christopher Zajac.
Subscribe Today