In the Darnedest Places: Rails
Story and Photo by William Burt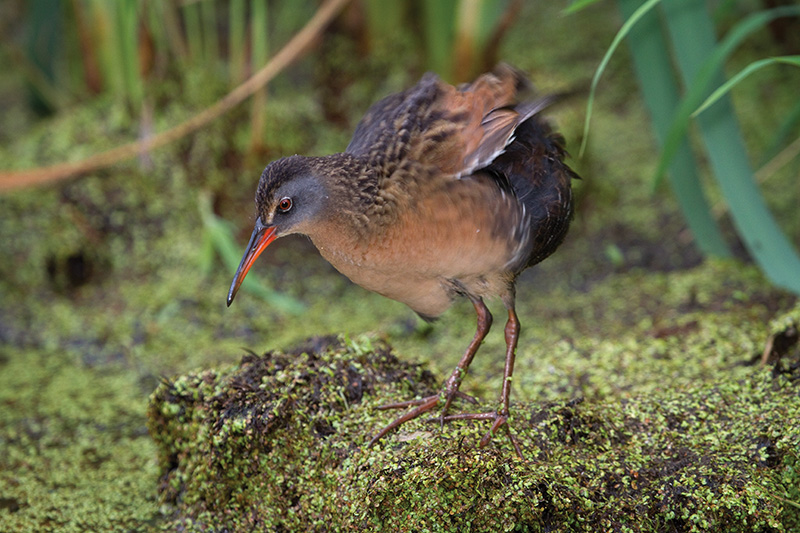 "In the marsh, the wilderness makes its last stand." So wrote the eminent New England bird man, Edward Howe Forbush, now more than a century ago.
And what birds snap to mind as most at home in that last wilderness? Why yes, none other than those most elusive of them all: the rails. Like fish and water, rails and marshes are as one. But rails can fly, and like all migrant birds that hie their way by night they sometimes end up in an urban other-world of glass and steel, concrete, and plane geometry; and by the light of morning, then, what could they do but wonder at the nightmare planet they had blundered onto? Nowhere could a wild bird of the marshes be more naked and alone.


One rail species turns up in these urban situations with such frequency that you might think it makes a sport of it.
When walking back to their hotel in downtown Cleveland late one April night, my friends the Kennedys looked down to see of all things a Virginia Rail. It strode on past them, weaving through the longer-legged pedestrians in a determined hurry, as if late for an appointment; then when a lady bleated in surprise it took a sharp turn down a side street, and was gone.
That was some time ago, but I've since read of other strayed Virginia Rails, and oddly most have been observed in New York City, and most in the fall. On October 7, 1999, notes Richard Gershon, one spent the whole day "huddled on a window sill on the 26th! floor of 120 Broadway"—which happened to be outside an office of the Environmental Protection Bureau of New York State.
In October five years later, Jerry Layton tried to rescue a Virginia that had walked into a gym at Fifth Avenue and Union Street, leapt up repeatedly at the antagonist it saw in the tall mirrors on the walls, then ultimately flew out and down Fifth Avenue. Mr. Layton cites two other, equally incongruous Virginias: one found in a laundry basket in October 2003 by a man who'd stopped to drop off his dry cleaning at a store on 7th Avenue near Prospect Park; and another seen on Flatbush Avenue, which turned and marched "into a photography store."
Mr. Peter Dorosh reported one seen "playing" with kids in Prospect Park in April 2006 (Playing tag, perhaps? One wishes for some details!).
And most bizarre of all perhaps was the November 2017 report by Ryan Bass of a Virginia Rail perched on the roof of a black Lexus in a midtown traffic jam (and Mr. Bass had the presence of mind to photograph it).


When you consider that it's far the most widespread and common of the rails in much of the US, I guess it's no surprise that the Virginia is most apt to pop up in these kooky situations. But other rails have been found strayed on their migrations, too: including the two rarest of them all.
In the March–April 1921 issue of Bird Lore (now Audubon) magazine one finds the September 1920 account of Mrs. Gladys Fowler, who sat "reading on the porch" when a neighbor called her attention to the "queer bird" walking toward her down the middle of the street. She was able to walk up within two feet of it, lean down, and unequivocally confirm it to be the rare Yellow Rail.
"That so shy a bird should land on a much traveled street in the heart of Chicago," she wrote, "seemed strange indeed."
I'm not aware of any instances of Black Rails blundering into cities, but a few have turned up in some otherwise unusual and even far-out situations. Connecticut's own Noble Proctor awoke to hear one calling on the lawn outside his tent one night in a Florida state park some years ago; and for a week in May 2003 a Black Rail was heard calling in a swale of "reed canary grass, cattails, and alders" in southeastern New Hampshire, some 400 miles north of its fast-shrinking salt marsh breeding grounds. But more fantastic still was the Black Rail of May 16, 1904, that tumbled on down through the branches of a pine tree to the feet of Mr. Stanley Cobb in Milton, Massachusetts—where of course it too was far north of its normal range.
No one—ever—will see that again.


Amusing as these tales may be of rails strayed during their migrations, still more curious to me are those that quit their native marshes in the breeding season. Why would any rail be moved to go a-wandering at that time, and remove itself from the breeding scene? The question leaves me wanting, though for what I'm not quite sure.
In fact, the first rail I had ever blundered onto was just such a bird. It happened right here in Old Lyme, when I was just 14; and I still can't figure that one out.
It was June, and my friend John and I were out exploring for new birds; and when we stepped up to the grassy edge of a small newly excavated pond, a large gray bird slipped out before our feet and plunged into the water. As we watched with our binoculars it paddled like a dog across the pond, bill angled upward, and then disappeared into the tangles at the other side.
We soon figured it to be a rail—that was exciting—and our Field Guide quickly narrowed it to one of the two larger species; but on reading further, we ran into trouble. Our gray bird looked like a Clapper, but the Clapper likes salt marshes, we read, and we were miles from any salt marsh. The rich brown King Rail is the one found inland…so that's how we had to leave it: unresolved.
A few months later, I first met the author of that book that so dependably had taught us during our first days of finding birds, save only on that one June morning by the pond. I stood by in reverence while Roger Tory Peterson signed my copy of his guide, and then I told him of the bird that looked so like a Clapper Rail but swam across a pond where only a King Rail ought to be.
"Was it grey or brown?" he asked.
"It was grey, but…"
"Then it was a Clapper, but it shouldn't have been there."
And that was that. But was he not alarmed? Here was an overt violation of the law—his own law, set forth in his own book—but no, he was unmoved. Amused, almost.

What was a Clapper doing there, a good four miles upriver from the nearest salt marsh, and at the peak of nesting time? I wonder still; but it was not the last one to confound me.
When strolling down the village street one foggy late-June night two decades later, I was yanked out of my reverie by the accelerating kek notes so familiar in a salt marsh, and I had to check myself: where was I? This clapping call came not from any salt marsh—there are none in downtown Old Lyme, Connecticut—but from the pruned grounds of Boxwood Manor, an august family-owned estate built in the 1840s and long since repurposed as a grand apartment complex. And such were the acoustics of that foggy night that this mad clapping must have carried the full length of Main Street.
What was he doing, calling from the hedged-in lawn of an in-town estate—in June, and at least half a mile from anything like salt marsh? Did he expect to winkle out a mate somehow?


Still other rails have been heard calling in the nesting season where no sane prospective mate would be.
The rare Black Rail, for one; its froggy call has been heard in some truly goofy situations in the heart of June. In June of 1980, the estimable Noble Proctor and two other bird men heard one call from a deep-water bulrush marsh in Cromwell, Connecticut, known affectionately as Dead Man's Swamp; and let's remember that this most particular of rails nests only in the fine Spartina and Distichlis grasses of salt meadows, from New Jersey southward. The only Black Rail I've ever heard on its historic breeding grounds here at the mouth of the Connecticut called intermittently for two nights running in late June of 2007: again not in a salt marsh, but among the six-foot cattails of a minor river marsh (small wonder, then, that it soon petered out). And more surprising still was one heard calling from a scrap of cattail marsh next to a golf course in coastal Rhode Island, from late May through the first week of June of 2015.


Yet once again, the rail most likely to surprise you is the commonplace Virginia. Here in Old Lyme alone I've heard the most remarkable account of its behavior at the height of nesting season, and not once but twice: of different birds in different places, different years, and by two different ladies.
But first—I can't resist—here's the brief story of a wrong-time, wrong-place rail encountered by one Roger Tory Peterson, back in the 1960s.
On returning from a trip to Maryland one warm June night, he stepped down off the train at Old Saybrook to the rousing welcome of a male Virginia Rail's familiar "ticket" call, from just across the tracks. But there was no marsh across the tracks, only a cemetery; and around the cemetery only high, dry upland. The nearest marsh lay nearly half a mile away: on the Connecticut River.
To be so greeted by this rail had leant the night an eerie poignancy, as Peterson recalled; for he had just returned by train from his first rendezvous with the exceedingly elusive, rare, and little-known Black Rail.
Okay: and now back to the ladies, and their rails.
These ladies lived no more than half a mile apart, upon adjoining ridges overlooking a small river flanked by cattail marsh; and each was keen to tell me of the hen-like bird she'd seen, and independently identified as a Virginia Rail. Which is nice enough, for they had both described their birds in proud detail from beak to tail; but here's the thing. They had looked out to see their "marsh hens" march on past with broods of eight and ten black downy chicks, respectively, strung out in tow like nursery-schoolers led out to the playground. And again this wasn't down along the muddy margins of the river, but atop a high, dry wooded ridgeline among oaks and laurel and outcropping granite.
One hen paraded hers across a planted lawn, as I remember, and the other a paved asphalt driveway; and in either case, what a remarkable sight that must have been. And that these two once-in-a-lifetime views were had not in the marsh by a marsh-lover with a camera, but through picture windows by two ladies who might not have ever muddied up a dress shoe…no, I'm not the least bit envious.
William Burt is a naturalist, photographer, and writer with a passion for wild places—especially marshes—and the elusive birds few people see. His photographs and stories are seen in Smithsonian, Audubon, National Wildlife, and other magazines, and he is the author of four books: Shadowbirds (1994); Rare & Elusive Birds of North America (2001); Marshes: The Disappearing Edens (2007); and Water Babies (2015). He lectures often, and his traveling exhibitions have shown at some 35 museums across the US and Canada—including the Carnegie Museum of Natural History, the New Brunswick Museum, the Calgary Science Center, the Liberty Science Center, the Natural History Museum of Los Angeles County, and the Harvard Museum of Natural History.
Subscribe Today