Fly-Fishing the Headwaters
Story and Photos by Ed Mitchell
Some of the finest fly-fishing in all of New England takes place in the headwaters of the Connecticut River, in Pittsburg, New Hampshire. Tight to the Canadian line, it is a land of rolling mountains, vast forests, shining lakes, rivers, dirt roads, covered bridges, moose, and loons. I first fished here over 30 years ago—a young man with fire in his eyes, leaky waders, and a fiberglass fly rod. The magic of this terrain instantly worked its way into my heart. And that magic has called me back again and again.
There are many places to fish in Pittsburg, but for the sake of this article let's focus on the two fly-fishing-only runs. Both are freestone streams (streams with seasonal flow), rarely deep and often wooded. The first one begins at the dam on Second Connecticut Lake, running roughly 2 miles downstream through beautiful scenery to First Connecticut Lake. All of it is a "no-kill" area.
The dam at Second Connecticut is "top release" (fishing below the dam only), and unfortunately the water warms quickly during the year. Still there are nice fish here and less fishing pressure. Often there are fish right at the base of the dam, although steep banks make delivering a fly to them a real challenge. To the right of the dam is a trail entering the woods. Wandering in here is a backwoods adventure. It will take you away from the crowds, but realize this is undeveloped country with no cell coverage. Plan accordingly. Still, expect to find trout, including native brookies, as well as the occasional landlocked salmon.
Another point of public access to these waters is found at the bridge on Magalloway Road. Logging trucks use this road, too, so stay alert. The river is wider and deeper here, and First Connecticut Lake can be seen hanging in the distance. Landlocked salmon enter this portion of the river in the spring, chasing smelts up from the lake. And some salmon are still around into June and early July, but as the summer heat comes on, they tend to drop back to the lake.
Be sure to wet a line around the bridge. There are often trout in the shadows. Next look for a trail near the parking area. This trail takes you downstream into some productive waters. You may even run into a blue-winged olive hatch. The fish rising are typically trout, but landlocks may be mixed in too. Believe me, hooking a landlocked salmon on a small dry fly is a true hoot.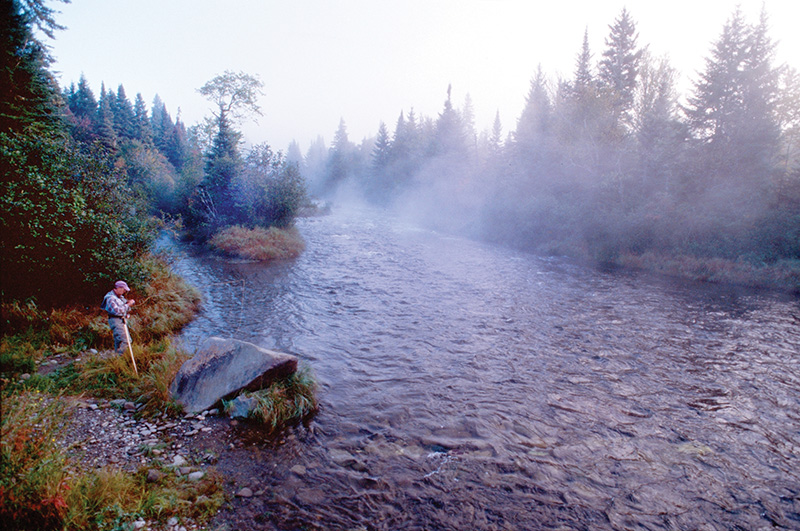 The second fly-fishing-only area is the more popular of the two. Known as the "Trophy Stretch," it winds downstream from the dam at First Connecticut Lake some 2.5 miles to Lake Francis. This is a "bottom release" dam, supplying cool water well into the summer. As a result, you find more trout, larger trout, more landlocked salmon, and yes, many more anglers. This is not a "no-kill" stretch, but the creel is limited.
Access to the Trophy Stretch is fairly good. If you poke around online, you'll find a free map of this section. Although the majority of pools require a short walk in the woods, there are three places you can drive to. The first is at the dam. Follow the road down the hill to a small parking area. There you will find a dirt path to the water. This section holds a large number of fish, but take care. The first 200 yards of river below the dam is swift and the bottom very slick. Felt soles with cleats and a wading staff are a good idea. The next easy access point is located off River Road. Called the Carr Ridge bridge pool, it is usually crowded but offers fine fishing. And occasionally there is some dry fly action. Farther down River Road is a third spot. It lies at the end of the Trophy Stretch where it joins Lake Francis.
Crowds
For many years I had sections of this wonderful river to myself. It was fabulous. After the Covid hit, however, anglers began arriving in droves. Most all outdoor recreation locations felt the same uptick in pressure. It is just something we all have to deal with. For that reason, I recommend you make reservations early and be patient on the water.
Gear
An 8- or 8.5-foot fly rod is a fine general-purpose tool. Love "euro-nymphing"? By all means bring your "euro" rod too. Heavily weighted flies and light tippet are used to quickly sink flies, and a "sighter" (multicolored section of monofilament) is used instead of a bobber. Floating fly lines do the bulk of the work. Chest waders with felt soles are advised, although when the water is low in the summer, hip boots may get you by. Overall, the wading isn't tricky, with the one exception I mentioned up by the dam on First Connecticut.
Flies
Fly hatches are limited in this boreal landscape, so the majority of fishing is done subsurface with nymphs, soft-hackles, wet flies, and streamers. The two lodges near the end of this article offer the latest "hot" patterns. But here are a few flies that always work for me: Copper Johns, Prince nymphs, Bead-head Caddis pupa, particularly in green; San Juan worms, Woolly Buggers in olive or white.
If you get lucky you may find rising fish. Blue-winged olives are the most common hatch with Sulphurs, and Cahills occur at times. In all three cases small dry flies are best. Terrestrial flies are useful too. On a rare warm evening you might see a few big Yellow Stoneflies riding the waves. A size 10 Stimulator (a dry fly that imitates a stonefly) is potent medicine.
River Levels
The flow in both fly-fishing sections is controlled by dam releases. As a result, water levels change throughout the season and affect the quality of the fishing and the ease of wading. For that reason, I suggest you contact either of the lodges mentioned below and inquire about present river conditions.
Accommodations
Lake Francis State Park Campground is located at 439 River Road, sitting right where the Trophy Stretch joins Lake Francis. This is a popular recreation location with 45 camp sites, from tent to RV. Nine sites have water/20-amp electricity hookups.
Lopstick Lodge is located on Route 3 at First Connecticut Lake. It is convenient to the Trophy Stretch, offering everything from small cabins to full-size homes. This is a well-run and a well-known operation with a very good website. They also have a fly shop and guides for hire and sell fishing licenses. They can inform you on the river flows.
Tall Timber Lodge is at 609 Beach Road, on Back Lake. They rent cabins and boats and host fine dining at the Rainbow Grille. This is another well-run and popular operation with a good website. Tall Timber also has a fly shop and guides for hire and sell fishing licenses. They will know the river flows.
Safety
There are a great many moose in Pittsburg. So, keep your speed down and your eyes peeled, particularly early and late in the day. If you want to hike in the woods, especially up by Second Connecticut, remember there is no cell phone coverage. Plan accordingly by fishing in teams.
Ed Mitchell is the author of 4 books on fly-fishing and has written for many magazines. He has over 40 years of experience in both fresh and saltwater fly-fishing.
Subscribe Today