The Oyster and the "R Factor"
By Melody Tierney
For centuries it had been thought that one should only eat shellfish in a month with an R in it—the "R factor"—and for good reason. All months from September through April have an "R" in them, and the rest are the summer months May through August. What does this mean to an oyster?
The summer months are prime breeding months, so all the oyster's energy is going into spawning and not into cultivating that sweet flavor that one would enjoy. Also, the threat of parasites caused by warm summer waters may make the oyster taste bad and could potentially make one ill. Today, with modern oyster farming and cultivation, oysters from one's local fish market are safe to enjoy year-round.
Oysters grow naturally in New England's tidal rivers and coastal bays. They have long been a dependable source of food for Native Americans and, later, for European settlers. Eventually this led to overfishing, which ultimately led to the depletion of natural beds by the early 18th century. Regulatory laws were put into place, and the industry rebounded.
The 19th century brought oyster cultivation to Connecticut and developed it into a major industry, topping New York, Rhode Island, and Massachusetts. Long Island Sound oysters were known far and wide for their robust and consistent size and flavorful, salty meats.
In the 20th century, pollution, marine traffic, and channel dredging—to name just a few problems—once again threatened the oyster population. Fortunately, the 21st century brings with it a steady comeback because of the new seeding and farming methods and pollution control.
There are so many ways to enjoy this bivalve. Freshly shucked and with a little sauce (such as a mignonette), grilled and served with a butter sauce, lightly coated with cornmeal and fried and served with a dipping sauce, or in a soup or stew. I like to call it a "stoup"!
Oyster Stoup
16–30 fresh oysters—shucked by you or the fishmonger (depends on size and how many you would like to serve); save the liquid (which is called oyster liquor)
2 tablespoons canola oil
1 small fennel bulb, finely diced; save the trimmings
1 shallot, diced
1 clove of garlic, minced
1 bay leaf
2 tablespoons unsalted butter
¼ cup white wine
2 cups heavy cream
1 celery stalk, thinly sliced
1 cup small, diced, peeled Yukon gold potato, parboiled
1 tablespoon roughly chopped fennel fronds
4 slices of rustic bread, toasted
Heat the oil over medium-high heat in a medium saucepan and add the fennel trimmings, shallot, and garlic for 3–4 minutes. Add the wine and bay leaf and bring to a boil, then lower to a simmer for 3 minutes. Add the cream (room temp) to the simmering (not boiling) liquid to prevent curdling, and simmer until reduced by ½, about 15 minutes.
Remove from heat and pour through a sieve set over a bowl. Retain the cream sauce and discard the solids.
Melt the butter in a large saucepan over medium heat and sauté diced fennel and celery until translucent, about 6 minutes. Add the strained cream sauce and potatoes and bring to a boil.
Add oysters and oyster liquor and bring to a simmer. Remove from the heat and stir in fennel fronds. Season with salt and pepper to taste.
Serve over a slice of bread in a shallow bowl.
Note: The cream can be reduced by using 1 cup cream and 1 cup fish broth or clam juice; however, the consistency will change.
Melody Tierney is an avid foodie and has enjoyed sharing her passion with friends and family for many years. She and her husband, Phil, were also bed and breakfast owners in Southampton, New York, serving up a signature breakfast every morning. This and their gracious hospitality earned them Inn of the Month in Travel and Leisure magazine.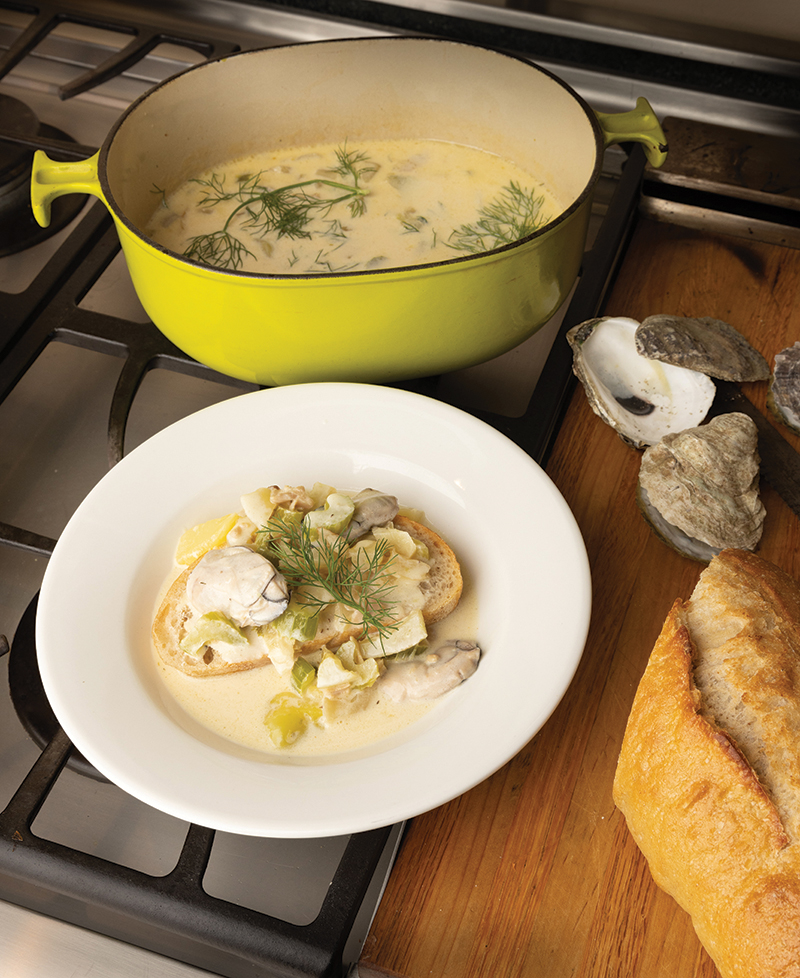 Photo credit: Christopher Zajac.
Subscribe Today