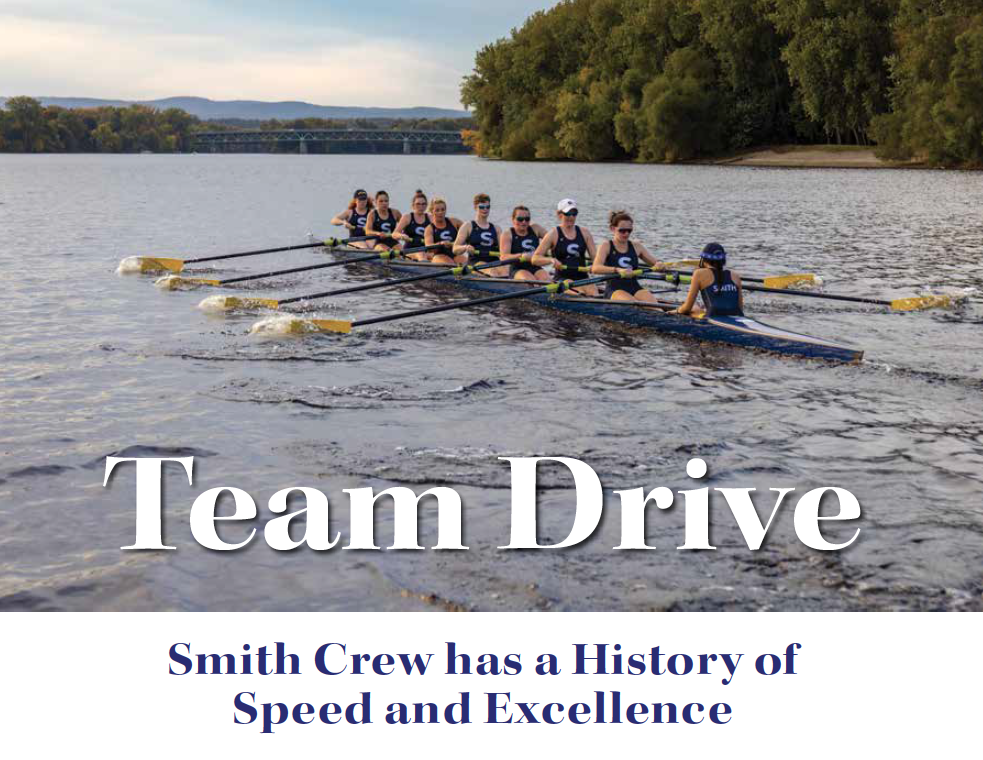 By Kristina Dorsey
Way back when, Smith College's rowers had a different look and a different outlook.
Around the turn of the 20th century, the students at this women's college in Northampton, Massachusetts, rowed in dresses and bloomers. The focus tended to be on form, posture, and timing.
Now, the team is as competitive as they come. The dresses are gone, replaced by utilitarian unisuits. The paddling around has given way to a drive to make the boat go as fast as they can.
Smith head crew coach Clare Doyle said that, when the crew wasn't able to race recently because of the pandemic, she realized the Smith students have an outstanding capacity to adapt. They never gave up.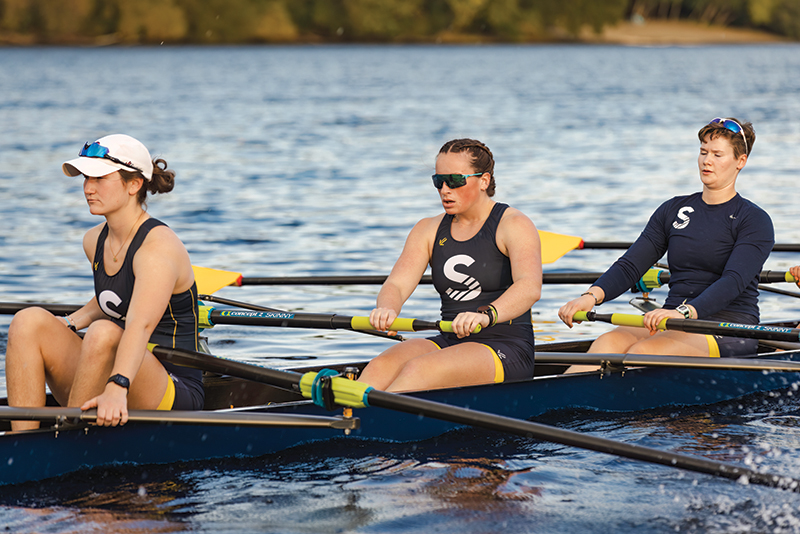 "We definitely learned we like to set big goals, and we have a lot of fun being able to go out on the water and see how fast we can be…. They really believe in each other and the team, and they want to create something big," she said.
Smith crew seems to have a history of that.
Karen Klinger, who rowed as a student at Smith in the 1980s and then was head coach from 1997 to 2017, said that both Doyle and she recruit high school rowers. They also work to create rowing athletes—women who had competed in another sport before, but not rowing, or had done no sports at all.
They might never race after college, she said, but "by being given something larger than themselves that requires sacrifice for others, they are given that experience…. We wanted to have the biggest D3 (a division of athletic programs at colleges and universities that choose not to offer athletic scholarships to their student-athletes) program in the country, we wanted to be big, we wanted to try to give a big number of athletes the experience, while also trying to be as fast as possible. That's a hard line to run."
Klinger figured that over her twenty years coaching at Smith, she taught more than 1,000 people to row or cox.
Doyle said, "What is really powerful about the Smith crew is the history of our program, the connection to our alums. We talk all the time about how Smith crew is bigger than any one person, it's bigger than any one season…. The program has been around for decades, and what stands out about Smith College in general is the alum community is so connected and so passionate about supporting the current students. I know our current students feel that—they feel that support and connection."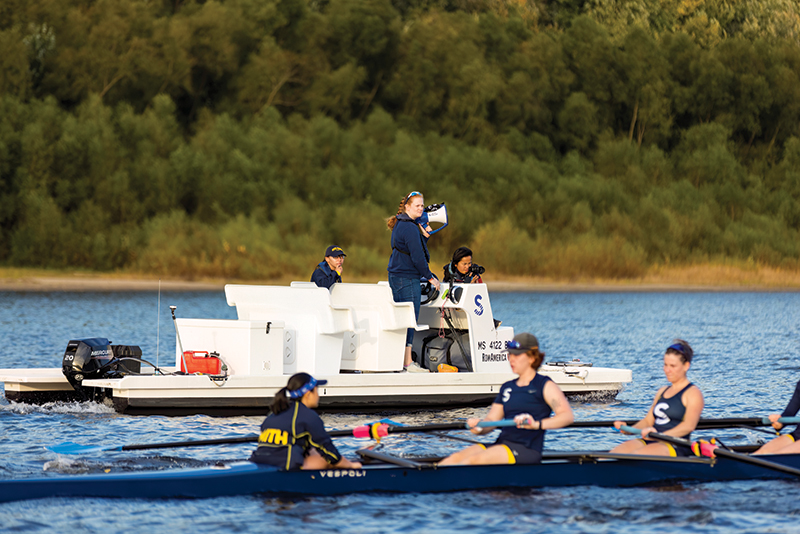 The alums support the team in all sorts of ways, from giving career advice to providing leadership development Zooms to donating financially. Alums and families and friends of the team recently raised over $175,000 to support the team's equipment needs; the team can now completely rebuild its fleet of boats.
Consummate Team Sport
Grace Horner Evans, a rower who graduated from Smith in 1982, says, "It's such a consummate team sport, not only when you're in the boat, trying to make the boat real fast. But Clare had sent out this little video in conjunction with a fundraiser they were doing, and I found one of the parts that really spoke to me was watching the rowers press the boat up over their heads, roll it to starboard and lay it in the water…. That in itself embodies what I really love about crew—all that togetherness."
That extended into all parts of the rowers' collegiate experience—they'd eat together, socialize together, Evans noted.
While she remembers some drama—"spicy" moments racing at the Head of the Charles and the boat getting swamped in particularly rough weather in New London—she remembers most beautiful early mornings on the river and dusky evenings.
With a laugh, she said, "let's be honest, it's not a spectator sport…. You're doing it because you love it. You're doing it because you love the people you're with…. You do it for the beauty of it, for those magical moments when you get the swing, you get the catch (the very start of the next stroke) together."
Evans learned so much beyond the sport. She learned life skills—like stepping up, working hard, and taking ownership of something—that have served her well in life.
"You never will meet a more loyal group of women, such a fantastic cross section of people. You cannot be a prima donna and be a rower," she said.
A Young, Hungry Team
Doyle, the head coach at Smith since 2017, said that, in 2021–22, "Our team was really young, really hungry. We had our largest roster in my time as head coach."
There were forty-four student-athletes on the team. In Doyle's time as head coach at Smith (she became head coach in 2017, after two years as assistant coach), the numbers have been more in the thirties. The team has tended to race three 8's before, instead of four, as happened this past year. And those earlier numbers are more typical across schools: Doyle noted that only three women's teams in New England raced four 8's consistently all spring.
Doyle says the team dealt with uncontrollables during its spring—some illness, followed by another round of illnesses. Those uncontrollables are part of sports, and Doyle notes it's really about how a team adjusts and keeps focused on what they can manage.
"The team definitely was on a mission to have every single crew in our program racing at the highest level and on the podium at championship races. Our long-term goal is to be competing at the NCAA level and earning a bid to the national championship. We weren't able to do that this year. But we put out our best efforts."
"What I love is it didn't stop the team from getting a little bit faster each week," she said, noting that that sets a really strong platform for late 2022 and heading into 2023.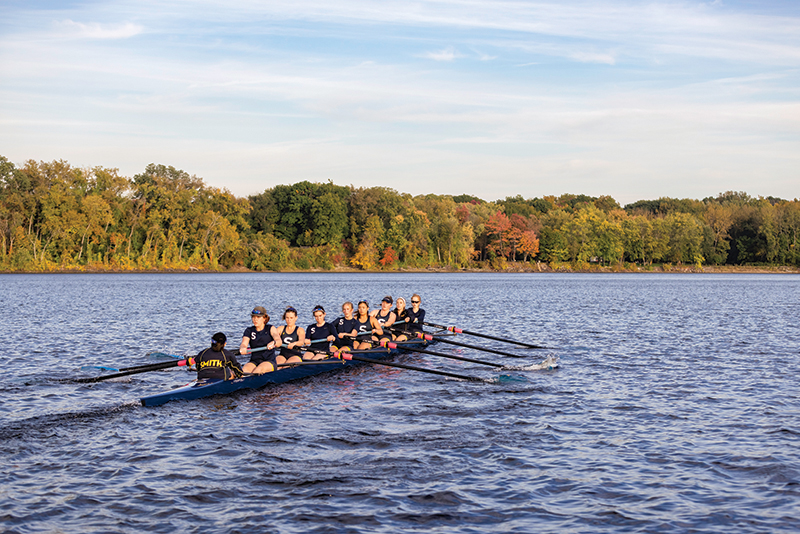 While Smith crew was up in numbers for 2021–22, what was even more important was the quality of the rowers all the way through the program. Yes, the top boats did well. But the team also had a deep bench. The third and fourth boats came away with medals at several championship races. The fourth boat won the NEWMAC (New England Women's and Men's Athletic Conference) Championships and New England Rowing Championships. The third boat came in second at both of those, almost winning the New England Rowing Championships before being outsprinted at the line by Bates College.
The depth is extremely important. Every single crew, every single member of the team, is a part of the whole.
"Whether you're in that boat, whether you're in another boat, whether you're on land, whether you're supporting the team as a spare that weekend—every single result is a team result, every single performance is a team performance," Doyle said.
An Average (Busy) Day
While these athletes are training at a high level, they also are, of course, students. Here is what an average day might look like: Take classes during the day. Study on campus. Probably work a campus job or do research with a professor, or maybe attend an extracurricular club meeting.
Then the team typically meets on campus around 4:15 p.m., after classes end, and travels about ten minutes to the boathouse on the Connecticut River.
They'll get the equipment set up and do an on-land warmup. Coaches will send notes of what they are trying to accomplish that day or anything they want the team to think of as they ready to launch.
They are usually on the river for seventy to ninety minutes. Depending on the work they are doing on a given day, the crews might be split between coaches to do some focused technical work, or the four boats might be next to each on the main stretch of the river.
After practice, they'll clean up the equipment and go over some closing notes before heading back to campus for dinner and studying.
A note about the Smith crew boathouse: It opened in the fall of 2019, and Doyle called it "a really phenomenal facility. It's just a great home for the program."
It is a huge improvement on the space the team was operating out of before, and there is plenty of room for equipment, for training, and for storage—"all sorts of great space for us to call home," Doyle said.
Key Values
Doyle said Smith crew has three key values: energy, grit, and gratitude. They talk about those elements a lot, and they discuss those traits in everything the team does.
"Energy is first and foremost, just knowing where you are on an individual basis and bringing whatever you have on any given day. But then (also) be willing to use your energy to lift up your teammates and be a part of anything bigger than one person," she said.
That means working to create a positive, intentional, and focused level of effort and energy each day.
Grit, meanwhile, Doyle said, "is all about working hard and loving the process of challenging yourself, loving the ability to get outside your comfort zone. What we weren't able to do for the last three years was compete and go side by side with other teams. We weren't able to do this sport in the way we love it, being able to just see how far you can go and how much speed you can create."
And then there is gratitude, being thankful for being able to row, "being able to show up for our teammates and represent Smith and being able to go 2,000 meters as hard as you possibly can," Doyle said.

Building Character
Ultimately, it's about more than rowing.
"Rowing is what we do, we love the sport, but it's really a tool, it's a vehicle for learning how to build community and building character and learning how to be a part of something that is really significant and impactful," Doyle said. "It's really about all the work we do day to day to grow as people and teammates, more so than just the process of making a boat go fast—but that part is really fun."
Subscribe Today