New Column Starts with Summer Issue
The Connecticut River, New England's longest, drains 7.2 million acres of land that encompass its watershed. This diverse and sizable watershed is home to some of the most intact forested landscapes in New England and to 396 communities where approximately 2.4 million people reside, 84 percent of whom live in cities. This landscape is also home to the Silvio O. Conte National Fish and Wildlife Refuge (Conte Refuge). Known as "the People's Refuge" and "the Climate Refuge," the Conte Refuge holds several distinctions. It is the only Congressionally legislated refuge in the National Wildlife Refuge System that encompasses an entire watershed and the country's only National Blueway. Established in 1997 and named after Massachusetts Republican Congressman Silvio O. Conte, the Conte Refuge enjoys support from people of all political backgrounds. Within the watershed boundaries the Conte Refuge currently owns and manages nearly 40,000 acres of land. Through the Conte Corner the authors hope to bring to life how laws, policies, and funding, in DC and locally, make a difference to the watershed, the Conte Refuge, and you and me: the people who live, work, and play here. Meet the authors.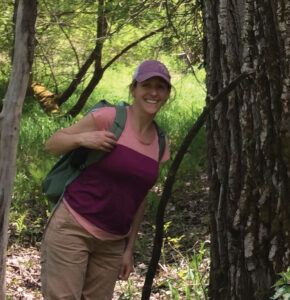 Markelle Smith
is Director of the Friends of Conte and Conservation Partnerships Director at Mass Audubon. Markelle collaborates with local, state, and federal partners to advance and accelerate critical conservation projects throughout the Connecticut River watershed. Before joining Mass Audubon, she worked for The Nature Conservancy in Massachusetts. She holds a Master of Forestry from Yale University and a BS in ecology from the University of Vermont. Markelle is also a member of her town's Open Space Committee and can often be found hiking, skiing, or biking a local trail with her family.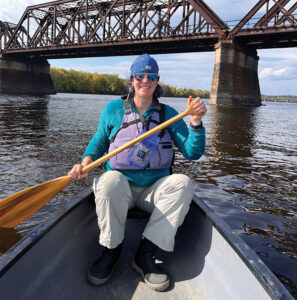 Kristen Sykes
is Director of Southern NE Conservation Projects and Partnerships for the Appalachian Mountain Club (AMC) and Chair of the Friends of Conte. Joining AMC in 2004, Kristen works on land conservation, trails, and recreational access in the Northeast. Prior to joining AMC, she worked for Friends of the Earth in Washington, DC. She has an MS in Environmental Studies from the University of Montana and a BA from California State University Sacramento. She serves on the board of the Mass Land Trust Coalition and MassBike. She co-owns Pie in The Sky Berry Farm, a "u-pick" organic berry and flower farm in Northampton, MA. Kristen loves road biking, paddling, hiking, and cross-country skiing.
Subscribe Today