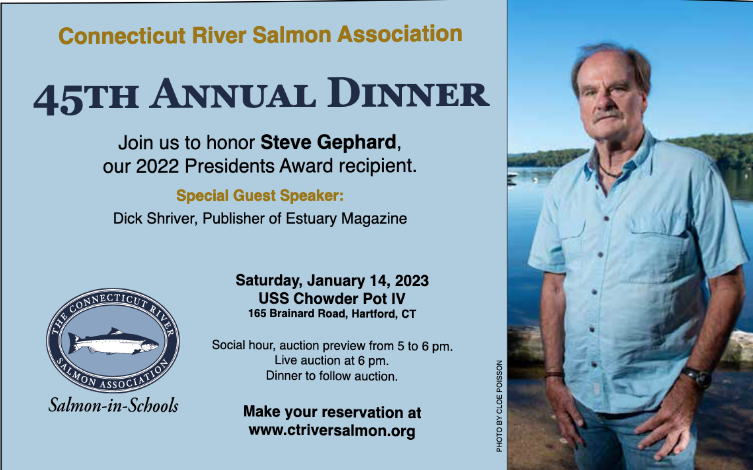 Connecticut River Salmon Association
45th Annual Dinner
Saturday, January 14, 2023
USS Chowder Pot IV
165 Brainerd Rd, Hartford, Connecticut
Join us to honor Steve Gephard, CRSA's 2022 Presidents Award recipient, and frequent estuary contributor. Steve is a fisheries biologist who recently retired after more than 40 years with the Connecticut Department of Energy and Environmental Protection (DEEP) Fisheries Division. He writes the "Below the Surface" column in each issue with fish passage and habitat restoration.
CRSA is honoring Steve because, as they note, he "deserves special recognition for his 42 years of efforts at DEEP on behalf of migratory fish and his 26 years as consulting biologist to our Salmon-in-Schools program."
Estuary publisher Dick Shriver will be the guest speaker. The event includes a social hour with music, live and silent auction, "Grand Prize Buckets," a Bucket raffle, a Board of Directors' Mystery Wine raffle, and a door prize of a fly-fishing outfit specifically for attendees 18 and under, and dinner. Tickets are $50 per person. Make your reservations at ctriversalmon.org. For quests, email info@ctriversalmon.org.
Subscribe Today