Savory Apple Stuffed Chicken Breast
with Cider Sauce
By Melody Tierney
It's wintertime. A time to celebrate. A time to gather with friends and share good stories and good food. It is a time to celebrate the shortest day and the longest night of the year. It is the official start of winter, but the good news is that our days will be getting longer. So, let's hunker down and prepare a quick and easy feast to share with loved ones on the Winter Solstice, December 21! Traditional foods might include nuts, berries, squash, potatoes, meat, and spices. Let's incorporate some of these ingredients and serve up a fragrant and delicious stuffed chicken breast and a spicy gingerbread for dessert.
Stuffed Chicken Breast with
Apple Cider Sauce
4 tablespoons olive oil
1 medium onion, diced
3 crisp apples, your choice, peeled, seeded, and finely sliced
5 medium fresh sage leaves or 2 teaspoons dried
1 cup breadcrumbs
Zest of 1 lemon
4 boneless chicken breast halves (4–6 oz. each), skin on, tenderloins removed
Salt & pepper
1 pint chicken stock or broth
½ cup apple cider
1 tablespoon apple brandy (optional)
6 tablespoons cold unsalted butter, cut into small pieces
Preheat oven to 350°F. For the stuffing, heat 2 tablespoons of oil in a medium skillet over medium heat. Sauté onion until translucent. Stir often. Once onions are translucent, add the apples and cook until tender. Add sage, breadcrumbs, lemon zest, and salt and pepper. Combine well. Optional: Add chopped walnuts or cranberries to stuffing. Transfer to a bowl to cool.
Place chicken breast, shiny side up, one at a time, between plastic wrap and gently pound to flatten to about ½-inch thick. Season to taste with salt and pepper.
Place ¼ of stuffing down the length of each flattened chicken breast and then roll up lengthwise and tie with butcher's string.
To make the sauce, boil apple cider and chicken stock in medium skillet, stirring often until reduced by half.
Remove from heat to add the brandy, if using (I like to use Calvados). Return to medium-high heat and boil slowly, whisking in the butter. Add salt and pepper to taste.
Heat remaining 2 tablespoons of oil in large skillet over medium-high heat. Brown chicken on all sides, starting with the seam side down. This should take 6–8 minutes. Place chicken on lightly greased baking sheet and bake for 12–15 minutes or until juices run clear.
To serve: Remove twine and slice the chicken at an angle about ½-inch thick or your desired width. Plate and serve with cider sauce.Roasted potatoes would be a good accompaniment.
Gingerbread
½ cup unsalted butter, softened
½ cup sugar
1 large egg
1 cup molasses (not black strap)
2½ cups all-purpose flour
1½ teaspoons baking soda
1 teaspoon ground cinnamon
1 teaspoon ground ginger
½ teaspoon ground cloves
½ teaspoon salt
1 cup hot water
Preheat oven to 350°F. Grease and flour a 9-inch square baking pan.
Beat butter until creamy. Add sugar and beat until light and fluffy, about 3 minutes. Mix in egg, then molasses, until smooth.
Sift together the dry ingredients. Gradually add to the molasses mixture, stirring between each addition until incorporated. Mix in hot water until smooth.
Pour into prepared pan and bake for 30 minutes. Test with a toothpick. If it comes out dry, remove from oven. If it comes out wet, bake for another 15–30 minutes. Let cool in pan before serving.
Serve with whipped cream or ice cream.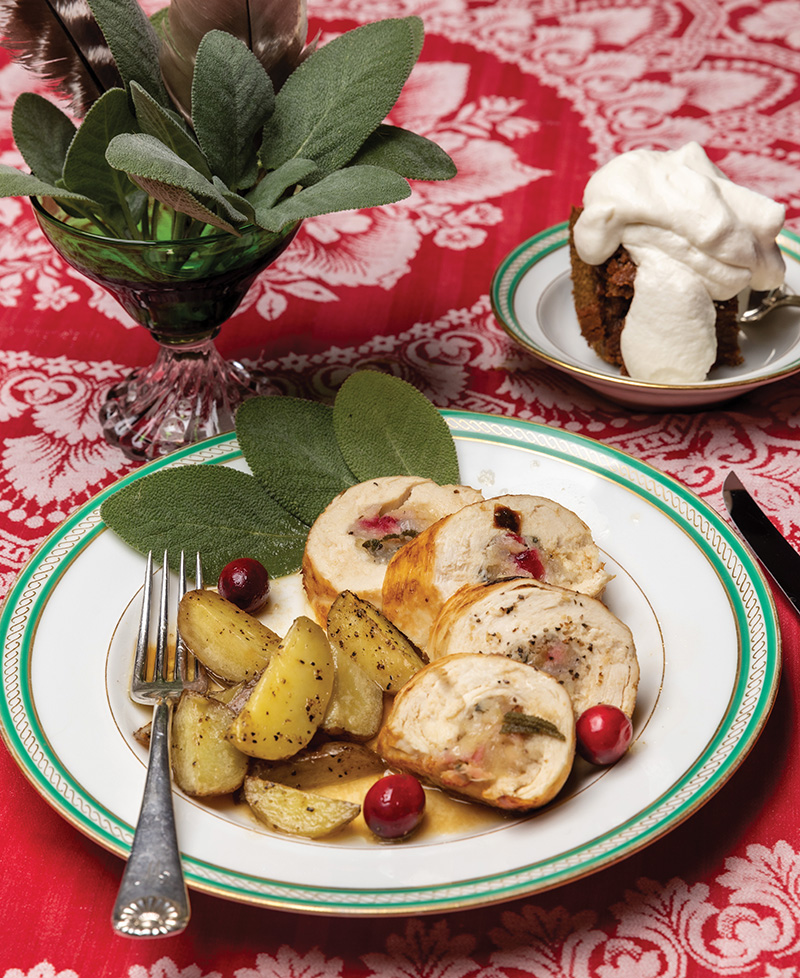 Photo credit: Christopher Zajac.
Subscribe Today