Bounties of the Fall Harvest
By Melody Tierney
It's fall, which brings with it a wealth of seasonal produce like butternut squash, sweet potatoes, and of course the apple!
What better way to celebrate the season than to stroll through an apple orchard and pick to your heart's content, knowing that apples will keep for weeks if stored in a cool place like your crisper drawer in the fridge. So, bring your bounty home and start cooking!
There is a plethora of recipe choices, starting with apple sauce. Core your apples—seeds will turn your sauce brown—and cut into chunks, add a little water, and cook down. Run them through a food mill to remove the skin, et voila! Taste. Only add sugar if too tart…perhaps a dash of cinnamon. Cortlands are the sweetest, and McIntosh have a little tang. Combining them is fun too! There are over 2,500 varieties to choose from in the US but only 100 grown commercially. So have fun and experiment.
For a meal, something savory is in order, like a butternut squash, carrot, and apple soup paired with a goat cheese tart with a salad of apples, pomegranates, and frisée. Perfect for brunch or a light supper.
Goat Cheese Tart
This is a very luxurious crust, but you can use your favorite pâte brisée recipe. This tart is also nice as an hors d'oeuvre, without the salad, adding a few caramelized onions on top, cut into squares using a rectangular tart pan. This recipe makes one 12-inch tart which can serve up to 10 people.
Crust Ingredients
1½ cups flour
¼ teaspoon kosher salt
9 tablespoons unsalted butter, diced
2 large egg yolks
¼ cup heavy cream
Cheese Filling Ingredients
8 ounces soft goat cheese
5 ounces heavy cream
2 large eggs
1 teaspoon fresh thyme leaves
Kosher salt and freshly ground black pepper
Combine flour and salt in a stand mixer with a paddle or use a wooden spoon. Gradually add the butter, and mix until dough is crumbly. Whisk egg yolks and cream in a separate bowl, then add to flour and mix until it comes together into a ball. Wrap dough in plastic wrap and refrigerate at least one hour. On a lightly floured surface, roll out the dough to ⅛-inch thick. Press dough into a 12-inch removable-bottom tart pan and trim off excess. Prick all over with a fork and freeze for 20 minutes until firm. Partially bake at 350° on the middle rack for 8 minutes. Remove from oven and let cool.
To make the filling, whisk together all the ingredients or use a mixer until the mixture is smooth like lightly whipped cream. Pour into the partially baked tart shell and smooth over. Bake for 25 minutes at 350°. Top should just be a pale golden color.
Frisée Salad with Apples and Apple Cider Vinaigrette
1 head frisée or baby lettuces
1 Fuji apple, cut into 12 slices (or any sweet yet tart apple)
Seeds from 1 pomegranate (or dried cranberries)
Apple Cider Vinaigrette
1 tablespoon finely minced shallot
1 teaspoon Dijon mustard
1½ tablespoon apple cider vinegar
¼ cup olive oil
Salt & pepper to taste
Mix the vinaigrette ingredients together to form an emulsion, shaking in a jar or using a blender. Toss the frisée and pomegranate seeds together with the dressing and add apple slices.
Apple, Butternut, and Carrot Soup
3 tablespoons vegetable oil
1 medium white onion, small dice
3 celery stalks, coarsely chopped
1 medium carrot, peeled and finely chopped
1 large Granny Smith apple, peeled, cored, and coarsely chopped
1 tablespoon Kosher salt
1 teaspoon freshly ground black pepper
1 teaspoon ground cinnamon
1 teaspoon ground nutmeg
1 teaspoon ground allspice1 large butternut squash, peeled, and cut into 1-inch pieces
2 quarts chicken stock or water
2 cups apple cider
2 teaspoons lemon juice, freshly squeezed
2 cups half and half
Heat the oil over medium-low heat in a large stockpot and add all ingredients up to but not including the squash. Cover and cook for 8–10 minutes until vegetables are tender, stirring occasionally. Remove cover and add squash, water (or stock), apple cider, and lemon juice. Simmer over medium-high heat, stirring occasionally, for about 40 minutes until squash is fork tender. Using an emersion blender stick (or work in batches in a blender), purée until texture is silky smooth. Slowly whisk in the half and half. Add salt and pepper to taste.
This soup can be made a day in advance, which will allow the flavors to meld together even more.
Melody Tierney and her husband, Phil, were B&B owners in Southampton, NY, serving a signature breakfast. They earned Inn of the Month in Travel and Leisure magazine.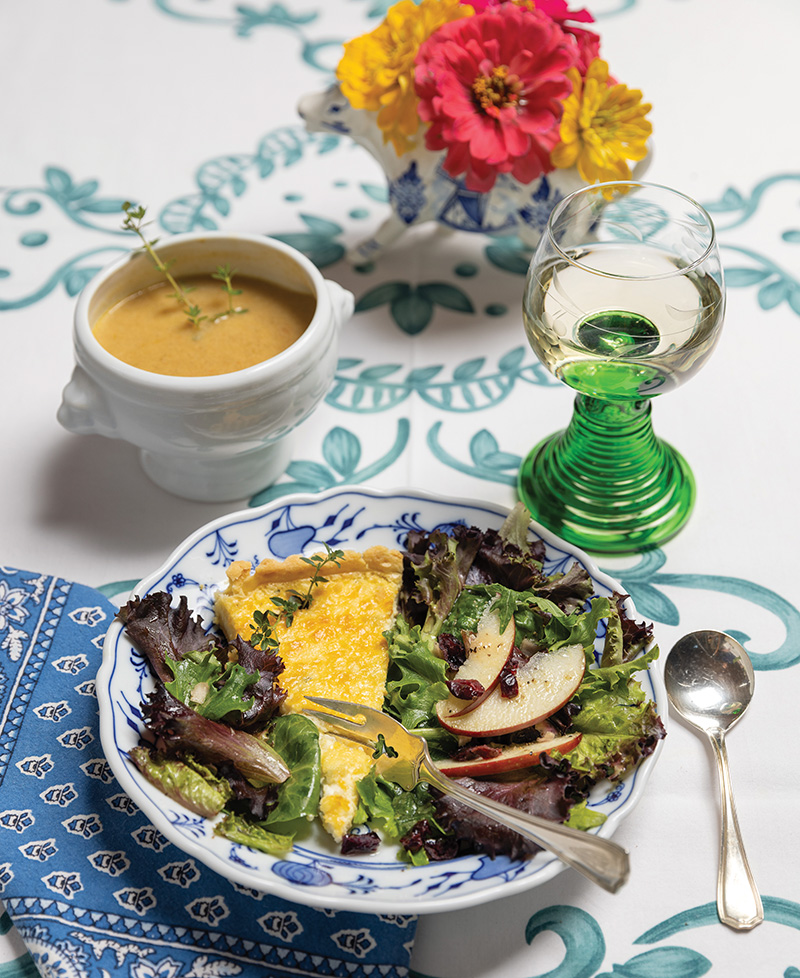 Photo credit: Christopher Zajac.
Subscribe Today