Striped Bass with Summer Vegetables
A Summer Classic
By Melody Tierney
The stripers are running—chasing the shad and herring up the Connecticut River where they are plentiful this time of year trying to reach their spawning grounds. Large schools of migratory bass enter the river in the spring and run all the way up to Holyoke, Massachusetts. The river is the perfect habitat with its many sharp turns which create fast currents and deep drop-offs, the perfect habitat for ambushing migrating fish! Striped bass can be caught year-round but are most abundant this time of year. This recipe is perfect in any season but particularly in the summertime when served with a brilliant parsley sauce and a colorful fresh-from-the-garden ratatouille.
Wild Striped Bass with Parsley Cream Sauce (Serves 4)
4 striped bass fillets, skin on (about
7 oz. each)
3 tablespoons canola oil
Kosher salt & freshly ground white pepper
1 lemon
Preheat oven to 350°F. Heat canola oil in a large, oven safe sauté pan over high heat. Season fish with salt and pepper and place skin side down in the pan. Sear over high heat for about 3 minutes until skin starts to crisp. Remove pan from stove and place in oven for 10 minutes.
Remove from oven and check for doneness by inserting a skewer into the flesh. Once done the fish should offer a light resistance.
Drizzle fillets with lemon juice.
Parley Cream Sauce
1 large shallot, peeled
1 tablespoon olive oil
½ teaspoon kosher salt
1 cup flat-leaf parsley leaves
1¼ cups heavy cream
Freshly ground white pepper
Preheat oven to 375°F. Coat the shallot with the oil, sprinkle with salt, and tightly wrap in foil. Roast for 10–15 minutes depending on size of shallot. Bring the cream to a boil in a small saucepan over medium heat. Place shallot and parsley in a blender. Slowly pour in hot cream while blending shallot and parsley. Puree until smooth. Season with salt and pepper. Pour puree into a bowl and nest the bowl over ice to quickly chill.
Ratatouille (Serves 4)
½ cup each of small vegetables, skins on: zucchini, yellow squash, eggplant, red bell pepper, and red onion
4 garlic cloves chopped
½ cup diced tomatoes or cherry tomatoes halved
Kosher salt and freshly ground black pepper
2 tablespoons balsamic vinegar
3 large fresh basil leaves
Heat the oil until lightly smoking in a large sauté pan over medium heat. Add the vegetables minus the garlic and tomatoes and sauté about 7 minutes until they start to color. Add the garlic and the tomatoes and cook for another minute. Transfer to a bowl and toss with vinegar and torn basil leaves.
Serving suggestions
Place a large spoonful of parsley sauce on the plate, mound ratatouille over sauce, and place bass on top. Serve with lemon wedge.
Alternative (as pictured): Serve with ratatouille on the side and parsley sauce drizzled over fish. Serve with lemon wedge. (Note: skinless fish used for the photo.)
Melody Tierney and her husband, Phil, were B&B owners in Southampton, NY, serving a signature breakfast. They earned Inn of the Month in Travel and Leisure magazine.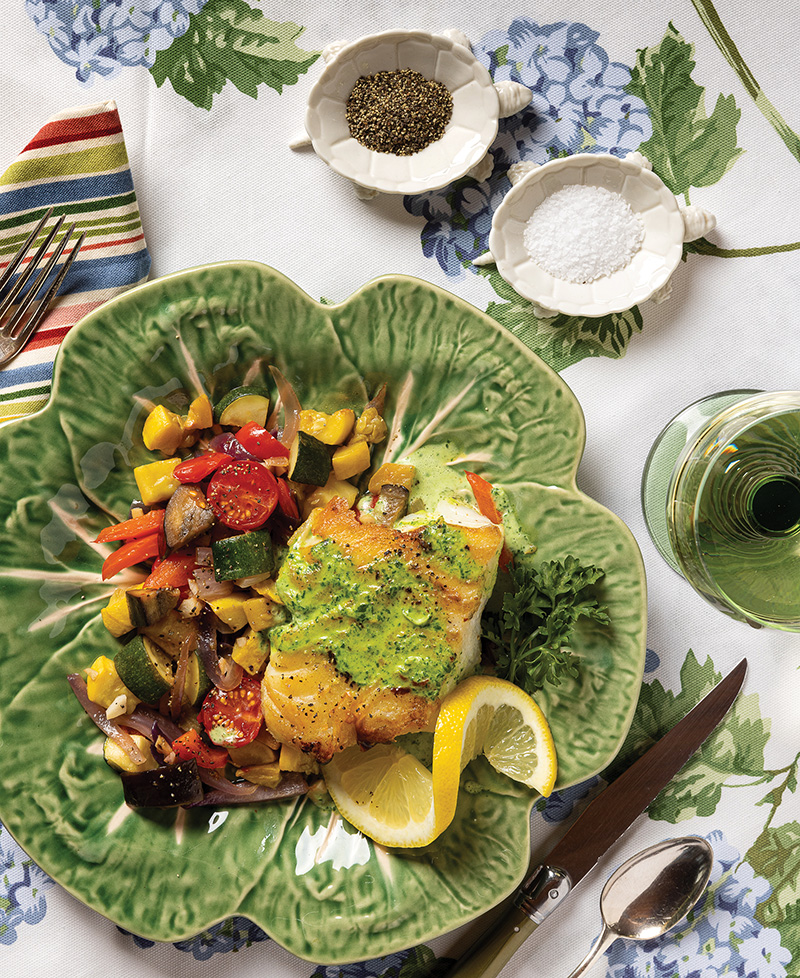 Photo credit: Christopher Zajac.
Subscribe Today