Salmon with Liquid Gold—Maple Syrup
And Maple Pecan Sweet Potatoes
By Melody Tierney
Not just for pancakes, maple syrup has been a staple in the North American diet for centuries. The early Native Americans, legend has it, would tap the maple tree, remove the sap, and place it in large bark troughs where it would freeze. The ice could then be removed yielding the sticky substance, maple syrup. It was also said that they would add hot rocks to the liquid allowing the water to evaporate off, but today the water is boiled off in stages to yield different products: maple syrup, maple sugar (evaporating all the liquid out of the syrup), and maple cream, which is the syrup heated, cooled, and then stirred and aerated into a thick, creamy consistency, which can then be spread on all sorts of baked goods, sandwiches, and of course pancakes!
Make your own maple butter by mixing butter and maple syrup together in a two-to-one ratio. It's a nice addition to a charcuterie board in place of honey or jam, delicious on toast with peanut butter or combined with some Dijon mustard and spread on a pork tenderloin before roasting.
Maple syrup is a healthier alternative to refined sugar and can be substituted while also reducing some of the liquid in the recipe. It contains fewer calories and a higher concentration of minerals than honey.
It is no wonder maple syrup is often referred to as liquid gold; about 40 gallons of sap is needed to make one gallon of syrup.
Remember to use only 100% maple syrup. Here are two of my favorite recipes using maple syrup which are sweet and savory.
Maple-Balsamic Salmon (Serves 4)
4 salmon fillets (about ½ lb each)
3 tablespoons olive oil
3 tablespoons balsamic vinegar
¼ cup maple syrup (Vermont of course)
1½ teaspoons crushed garlic
1½ teaspoons grainy mustard
Whisk together olive oil, balsamic vinegar, maple syrup, garlic, and mustard. Place salmon fillets in a shallow dish or bowl and pour over one-half of the mixture. Marinate the salmon for 30 minutes. Hold remaining mixture for basting.
Preheat a cast iron skillet. Place salmon flesh side down and cook for 4 minutes. Flip salmon so skin-side is down, baste, and cook for 3 minutes. Flip salmon fillets again, baste, and cook for another 3 minutes.
Remove from pan, drizzle over mixture, and serve with a green vegetable or salad and a maple-pecan sweet potato.
Baked Maple Pecan Sweet Potatoes
(Serves 4)
4 small sweet potatoes
3 tablespoons salted butter
¾ cup pecans, chopped
1½ tablespoons maple syrup
Pinch of cinnamon
1 cardamom pod (optional)
¼ cup sour cream mixed with ½ teaspoon lemon juice (optional)
Chopped chives (optional)
Preheat oven to 375°F. Wrap potatoes in foil adding a little water to packet. Bake on a sheet pan until soft and liquid begins to caramelize in the foil, about 40 minutes or until done.
While baking, melt the butter in a small saucepan and toss in the pecans and cook for a few minutes until you can smell their nuttiness. Add maple syrup, cinnamon, and cardamom and cook until the pecans are loosely glazed.
Remove potatoes when baked and slit the tops.
Spoon on maple-pecan mix, minus the cardamom, and top with sour cream and chives if desired.
Melody Tierney and her husband, Phil, were B&B owners in Southampton, NY, serving a signature breakfast. They earned Inn of the Month in Travel and Leisure magazine.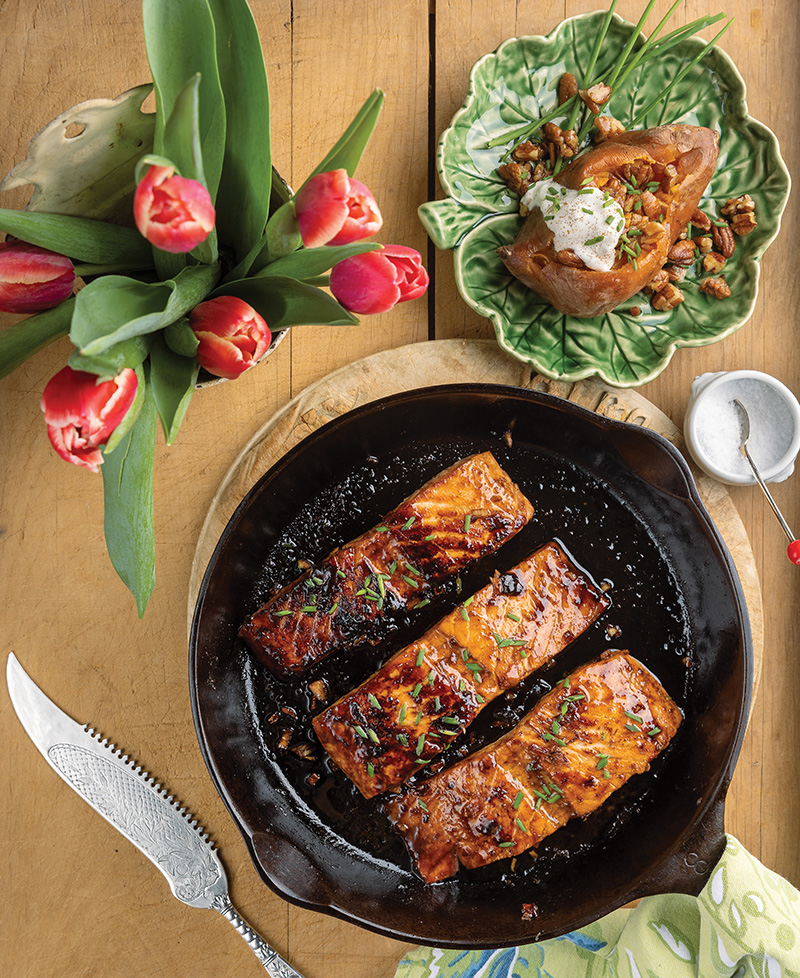 Photo credit: Christopher Zajac.
Subscribe Today