A Big Win for Our Estuaries
By Ralph Wood
Residents of Connecticut should be proud that, on January 14, 2022, the National Oceanic and Atmospheric Administration (NOAA) approved Connecticut's application for a National Estuarine Research Reserve (CT NERR). The reserve is the 30th in NOAA's nationwide system of estuarine research reserves. The new reserve is a partnership between NOAA and the State of Connecticut. University of Connecticut (UConn) and the Connecticut Department of Energy and Environmental Protection (DEEP) will oversee the work of the NERR.
The estuarine reserve designation is the culmination of an eight-year effort by a steering team whose members came from several conservation organizations: NOAA's Office for Coastal Management, the Connecticut Department of Energy and Environmental Protection, the Marine Sciences Department of the University of Connecticut, the Connecticut Sea Grant, and the Connecticut Audubon Society and its Roger Tory Peterson Estuary Center. Its mission is "to collaboratively integrate science with conservation, learning, recreation, and economic viability using ecologically diverse sites in southeastern Connecticut."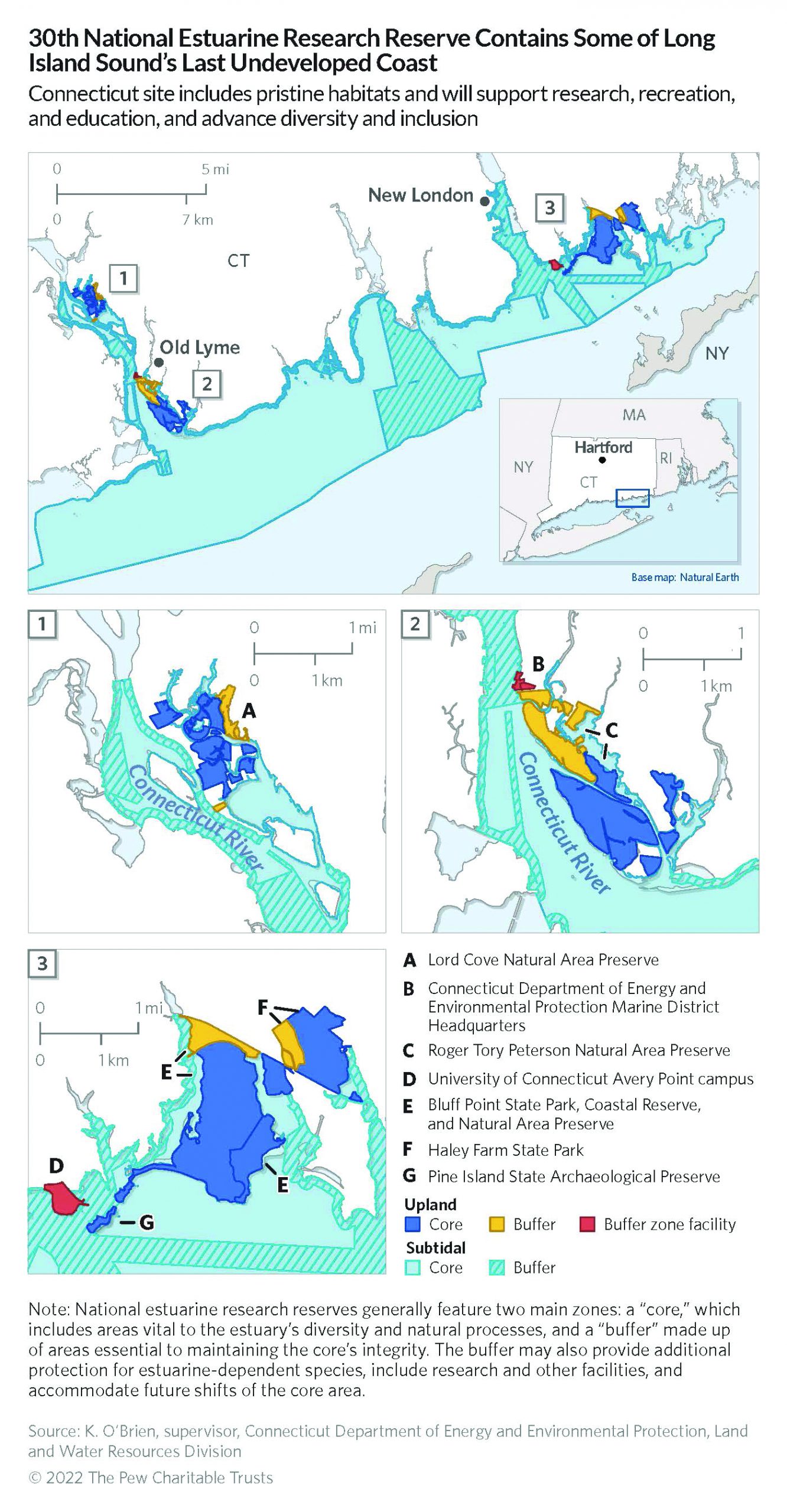 NOAA has long recognized the outsized role that estuaries play in the environmental health and economies of their communities. Estuaries (areas where saltwater and freshwater mix) and their complex of marshes are home to a unique variety of plants, fish, birds, and other wildlife. In addition to their economic and recreational value to coastal communities, estuaries provide important buffers against sea level rise. Their marshes sequester carbon from global warming and other pollution.
The estuarine reserve's site includes state-owned, landward properties and portions of their surrounding sub-tidal waters. Its total area is about 52,000 acres. It's seven non-contiguous properties are: (A) Lord Cove Natural Area Preserve in Lyme; (B) DEEP Marine District Headquarters in Old Lyme; (C) Roger Tory Peterson Natural Area Preserve (formerly Great Island Wildlife Management Area) in Old Lyme; (D) UConn Avery Point campus in Groton; (E) Bluff Point State Park, Coastal Reserve, and Natural Area Preserve in Groton; (F) Haley Farm State Park in Groton; and (G) Pine Island, adjacent to Avery Point. The estuarine reserve designation imposes no additional regulations on the areas.
Many businesses, both for-profit and non-profit, operate within the site. They include aquaculture (oysters and seaweed), commercial fishing, marinas and boat dealers, museums, nature centers, land trusts, and recreation such as sport fishing, hiking, bicycling, and bird and wildlife watching. By encouraging uses of the site compatible with its conservation mission, the estuarine reserve promises to increase economic development in its surrounding communities.
This site is also bursting with environmental education opportunities and resources: the Connecticut Audubon Society's Roger Tory Peterson Estuary Center, Project Oceanology, New England Science and Sailing Foundation, Connecticut Sea Grant, Mystic Aquarium, Mystic Seaport, Connecticut River Museum, and many public school systems.
The reserve designation means the area will share in NOAA's resources for estuarine conservation leadership. It will also enable collaborative science projects with other estuarine research reserves and provide educational scholarships to promote next-generation conservationists.
UConn will lead the new reserve and, at its Avery Point Campus, house an executive director and directors of research and monitoring, stewardship, education, coastal training, and volunteers. Both an advisory Board and a Friends group will be established. Partnerships between the Connecticut estuarine reserve and environmental groups will carry out program activities.
This victory for southeastern Connecticut's estuarine and coastal regions will assure a healthier environment for both their human and natural communities. In particular, the NERR designation will uphold the 1995 International Ramsar Convention's recognition of the Connecticut River estuary as a "wetlands of significance," because it "contains the least developed and disturbed large-river tidal marsh system in the entire United States and the most pristine large-river tidal marsh system in the Northeast."
Thanks go to the many organizations and individuals that contributed invaluable support and advice to the steering team. Special thanks are due the Pew Charitable Trusts, which contracted the Roger Tory Peterson Estuary Center to establish a network of constituents and their requirements for the proposed reserve, and Mr. Kevin O'Brien of DEEP and Dr. Jamie Vaudrey of UConn for their tireless and competent efforts in leading the successful designation.
Subscribe Today