With Roasted Pears Topped with Cranberries and Blue Cheese
By Melody Tierney
Turkey and cranberries are icons of the holiday season. Enjoyed for centuries in New England by the Indians and the colonists, the cranberry and the wild turkey were survival foods and always plentiful. Cranberry bogs can still be found in all New England states.
The cranberry was used for cooking and textile dyes as well as medicine. The Indians made an energy bar called pemmican, still being made today of dried meat, berries, and tallow. It was widely used by fur traders and early settlers as a chief source of calories on the cold winter trade routes. In 1622 the British brought honeybees to North America which changed how the colonists could use the fruit. Having a readily available sweetener turned the cranberry into a side dish with roasts as well as a filling for pies and tarts. Typically, one of those roasts would be the plentiful wild turkey…and then there were none!
Wild "turkies" do not migrate which make them vulnerable especially during the cold months. They were habitual roosters at night choosing the same tree making them an easy target. Organized hunts quickly depleted the flocks and by 1813 none could be found in Connecticut, none in Massachusetts and New Hampshire by 1854. The wild turkey comeback began during the depression with a combination of efforts, including taxes on arms and ammunition and reintroduction of the bird from other states into their natural habitat. It took many years for them to thrive, but by 1992 wild turkeys could be found in all New England states…and are now considered a nuisance in some communities!
Still a tradition and fan favorite around the holidays…as a roast or a savory pot pie. Pair this with a roasted pear and cranberry salad for the perfect meal.
Roasted Pears with Cranberries and Blue Cheese (Serves 6)
3 ripe but firm Anjou pears, peeled, halved, and seeded with melon baller…toss lightly with lemon juice to prevent browning
¼ cup fresh lemon juice
3 ounces crumbled (chunky) blue cheese, such as stilton
¼ cup dried cranberries
¼ cup toasted walnuts chopped
½ cup apple cider
3 tablespoons port wine (or other fruity red wine)
1/3 cup light brown sugar
¼ cup extra virgin olive oil
6 ounces baby arugula
Preheat oven to 375°F.
Slice a small piece off the rounded bottom of each pear half so it sits flat and arrange snugly in a baking dish.
Toss the blue cheese with the cranberries and walnuts in a bowl and evenly distribute into the pear indentations.
Combine in a bowl the apple cider, port, and brown sugar…stir to dissolve the sugar and pour over and around the pears. Bake, basting occasionally with the cider mixture until tender, about 30 minutes.
Mix olive oil, lemon juice, and ¼ cup basting liquid from baking dish in a large bowl for dressing. Toss arugula with the dressing and divide evenly on 6 plates…place a pear on top and drizzle each pear with the remaining basting liquid, sprinkle with salt and serve warm or at room temperature.
Turkey Pot Pie (Serves 4)
4 tablespoons butter
½ cup diced onion
1 cup diced carrot
1 cup diced potato (Yukon gold)
½ cup diced celery
½ cup frozen peas, thawed
4 tablespoons flour
3–4 cups turkey or chicken broth plus one chicken bouillon cube
½ teaspoon dried sage or 1 teaspoon chopped fresh sage
2 cups cooked turkey meat cubed or shredded
1 sheet of puff pastry
1 egg beaten
Preheat oven to 400°F. Parboil carrots, celery, and potatoes until tender, approximately 4 minutes. Drain and reserve.
Melt butter in large skillet, and sauté onions until translucent. Add flour to skillet, whisk until combined, and cook for 4 minutes. Gradually add broth with bouillon while whisking, until sauce is smooth and thickened, adding more liquid as needed.
Add sage, plus salt and pepper to taste. Stir in turkey, cooked vegetables, and peas. Pour mixture into deep pie plate or casserole.
Roll out dough, and lay across the dish extending over sides by one inch. Brush with egg, and make several slits to let the steam escape. Place pie dish on a rimmed baking sheet, and bake at 400° for 30 minutes. Turn down heat to 350°, and bake another 25–30 minutes till golden brown and bubbling through the slits. Let sit before serving.
Note: Chicken can be substituted for the turkey, and thyme or tarragon for the sage.
Melody Tierney and her husband, Phil, were B&B owners in Southampton, NY, serving a signature breakfast. They earned Inn of the Month in Travel and Leisure magazine.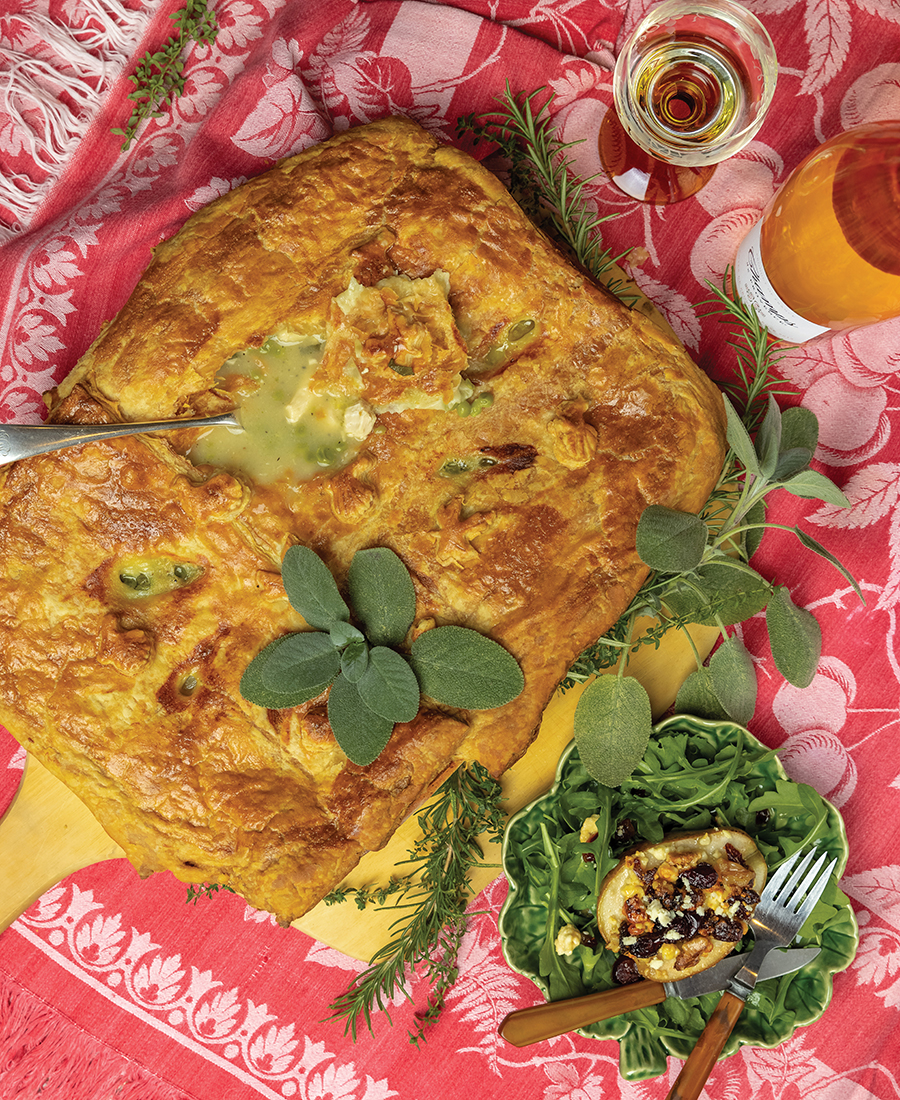 Photo credit: Christopher Zajac.
Subscribe Today