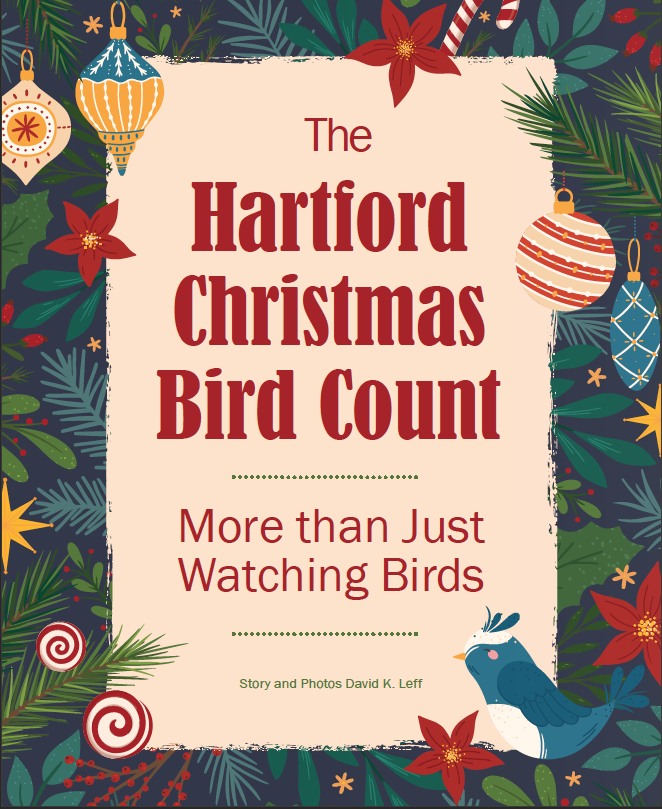 While most birders (once called birdwatchers) are compiling lists in visits to woods, meadows, parks, and at backyard feeders, the intrepid birders on the Hartford count wander through a cemetery, climb to the top of an old landfill, and walk into community gardens among dead and desiccated plants long past harvest. They drive slowly through city streets making note of sparrows and pigeons, scan the top of the 24-story Travelers Tower for peregrine falcons, and finish the day in a shopping center parking lot counting thousands of crows going to their evening roost.
Begun in 1900 as an alternative to a long tradition of hunting birds during the holiday, there are now about 2,000 Christmas bird counts in the country, and 600 more in Canada, the Caribbean, and Latin America. Sponsored by the National Audubon Society, over 81,000 people participate, from experts to novices. Each year, counts take place on a day between December 14 and January 5 in an established 15-mile diameter circle. The Hartford count has the city's Old Statehouse at its center.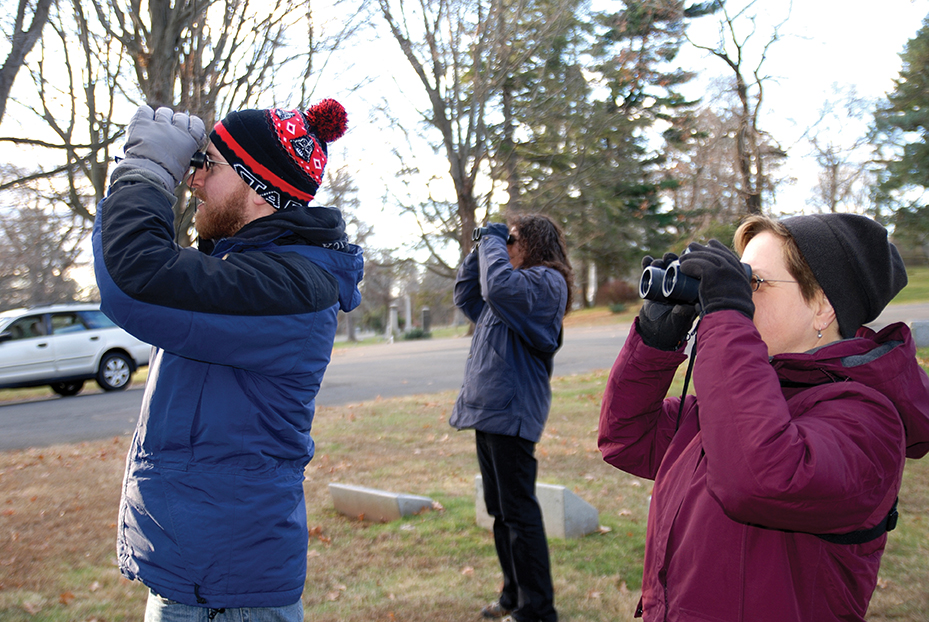 For the better part of two decades, I've joined naturalist and birding virtuoso Jay Kaplan on his area of the Hartford circle, which includes the city and a few spots just over the border. Kaplan is a keen and knowledgeable observer, a patient teacher with an acid wit. Each year, under clear skies, in rain or snow, and in frigid temperatures or preternatural warmth he draws a dozen or more individuals of all ages and skills on this annual ritual.
It may seem strange to be traipsing through Cedar Hill Cemetery in early morning gloaming with only a passing nod to the dead, but that's what it takes to see a great horned owl explode from a thicket of tall pines while you watch in startled awe as seven deer calmly graze nearby. No disrespect to J.P. Morgan, Katherine Hepburn, Wallace Stevens, and other notables buried here, but it's the vibrancy of birdsong rather than their eternal quiet that draws our interest.
Snow was deep this past year, but our quarry was plentiful. We thrilled to see a merlin, a small but regal falcon sitting atop a conical evergreen. The low rise where Morgan's red granite sarcophagus lies, was productive of small birds including red and white-breasted nuthatches. Going to the same places each year and seeing different birds is one of the day's joys, says count veteran Phyllis Winer. From previous counts she recalled seeing hundreds of grackles, a slender blackbird, milling on bare grass among the tombstones, and a tree so filled with heavily streaked finches called pine siskins, that it almost looked full of leaves.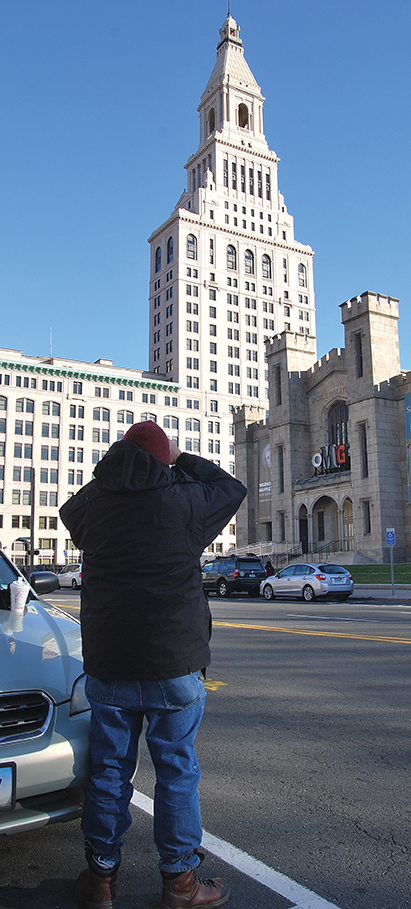 Weather is always a wild card. At the Goodwin Park Golf Course across the street from Cedar Hill, we hope to find gulls, ducks, and geese on the ponds. But, if the impoundments are frozen, there are few to count. With open water, numbers easily climb into the hundreds. Fortunately, there was some swimming room on our most recent visit, though a coyote standing stock still and staring at us from a distance for a few minutes stole our attention.
Birding in Hartford not only feeds Jay Kaplan's fascination with the avian world, he also enjoys the way it takes him to unexpected places for unusual reasons at odd times. This includes city streets. Standing like an exclamation point on Main Street, we scan the Travelers Tower for peregrine falcons. People often look askance when we jump out of a car with binoculars trained on the spire. You wouldn't think of traffic as a major birdwatching hazard, but it's easy to forget passing cars when you see one of these graceful creatures on the wing. Even when falcons don't appear, we count sparrows and pigeons.
The Hartford count's literal high point is a ramble around the plateau-like top of the closed landfill. Squeezed between I-91 and the Connecticut River just north of downtown, it rises 130 feet above its surroundings, offering dramatic views of the city and the Connecticut valley. Access requires special permission and official accompaniment.
Each year we make our way across the summit, into declivities at the edge, and along the dike paralleling the river. Among other birds, we feel lucky finding a white-crowned sparrow or two, an uncommon grassland species. Some years we see tens of horned larks, brown birds larger than sparrows with black and yellow facial features. They also favor open fields. Last year, a small flock of larks took off all at once and circled several times around us. It felt as if we were in the midst of a bird maelstrom, a phenomenon that brought smiles all around.
Gabrielle and Will Bugden, an enthusiastic couple in their early 30s, were among those mesmerized by the swirling horned larks. They've joined the count over the past several years to improve their birding skills, find species they haven't seen before, and look at places in a new way. Birding in Hartford "makes you see the city differently," Will says. Gabrielle agrees.
Hartford's landfill epitomized the day's experience—that nature is not separate from human involvement. Over time, "natural" has largely become a joint enterprise between civilization and the wild. Only a few years ago, gulls scavenging the garbage were by far the most numerous species. Raptors feeding on rodents that inhabited the mound were more common. Now that the landfill is closed and has grown into a field, it's a significant habitat for grassland birds, which are increasingly scarce. Gulls are now almost nonexistent, and although we might see red-tailed hawks, a kestrel, or Cooper's hawk, birds of prey are less common than they once were. More than just our debasement of the environment, the landfill illustrates our close, inseparable connection to nature.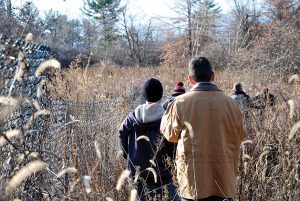 At nearby Riverside Park we walked past the closed boathouse and counted ducks and geese on the broad Connecticut River, flowing slow and steady. Small birds like sparrows inhabit the vine-tangled floodplain forest alongside the water where silver maples are common.
We next headed to the city's western edge, but the miles were not without counting. Pigeons, house sparrows and even a few robins and a cardinal were added to the list. Our destination was among the warren of fenced plots in community gardens behind the tent-like modernist architecture of the Unitarian Church. The last harvest had been many weeks earlier, and the gardeners were long gone. But we found birds gleaning fruits, seeds, and vegetables left behind among the dry, khaki stems. Blue jays, tree and song sparrows, juncos, gold and house finches were among those foraging.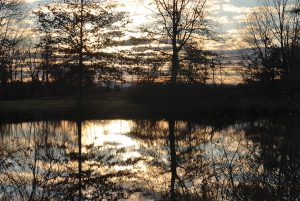 Birdwatchers are non-contact hunters of sorts, prowling about, senses on high alert. Stealth, awareness, and perceptual acuity are as important as a good pair of binoculars. Birders are sensitive to color, movement, weather, shapes, and sounds. They look at the relationship of birds to their places, knowing that certain trees, fruits, and seeds, topographical features, or human presences such as dumpsters or ditches are likely places for particular species. They venture out at hours most people don't regularly experience—at first light for spring songsters or deep into chilly nights for owls. Adventurous by nature, birders are intimate with rain, fog, searing heat, and frigid, snowy days. "Never knowing what you'll find is a big part of the fun," says Kaplan. It ignites your sense of wonder. "I enjoy the comradery of birding," adds Winer. "It's an annual reunion with a shared purpose."
We next wandered the woody margins of the Connecticut Historical Society grounds along the brushy, twisting banks of the Park River where we saw birds common at winter feeders—titmice, juncos, and house sparrows. Just few blocks away was our next stop at Elizabeth Park with its well-kept lawns and gardens beneath tall shade trees. A few years ago, after the usual mallard and goose count in the park pond, we were drawn to a repeated high pitched queeah, queeah, queeah sounding from a large oak. We trained our binoculars on a red-headed woodpecker, its crimson head glowing electrically in the late afternoon light. It was the find of that day, and we stood transfixed, staring at it for about ten minutes as if to make sure we had actually seen it, forgetting any other birding in the park. The sun was starting to set, and we made quickly for our last and probably most unusual stop.

Our birding odyssey concluded, as it always does, in the vast asphalt parking lot of a shopping center on a street busy with fast food restaurants, gas stations, and like businesses. We'd come to count crows flying to nighttime roosts. At first, we'd spot two or three, maybe a dozen winging in the gathering dusk. But as it grew darker, much larger flocks appeared, almost more birds than people could count. Soon the sky filled with a river of coal black corvids, as shoppers navigated carts among cars and drove away unaware of the exhilarating phenomena above them. Crows may not be much to look at, but several thousand flying overhead in about twenty minutes is unforgettable.
We made our way home in a state of exhausted joy, having seen forty-something species in places few people associate with nature. Being part of a 120-year-old project of community science felt good.
Just one or a few Christmas counts doesn't explain much, Kaplan observes, but decade upon decade of data, even if not rigorously exact, reveals important trends in habitat and climate change. In over 40 years of counting, he's seen a reduction in gulls tied to landfill closures, and the decline of ruffed grouse from loss of brushlands. There were no wild turkeys when he started, but introduced in the 1970s, numbers soon exploded. Red bellied woodpecker and Carolina wren were once mainly to the south, but a warming climate has made them more common. Christmas count data, Kaplan notes, has proved valuable for use in reports on climate change and wildlife conservation by the Environmental Protection Agency and United States Fish and Wildlife Service.
In an age of increasingly planned lives, the uncertainties of birding is exhilarating. But at least as much as birdwatching, I enjoy the company of birdwatchers. They live in a state of constant anticipation that is both contagious and inspiriting. There's a lot more to birdwatching than watching birds.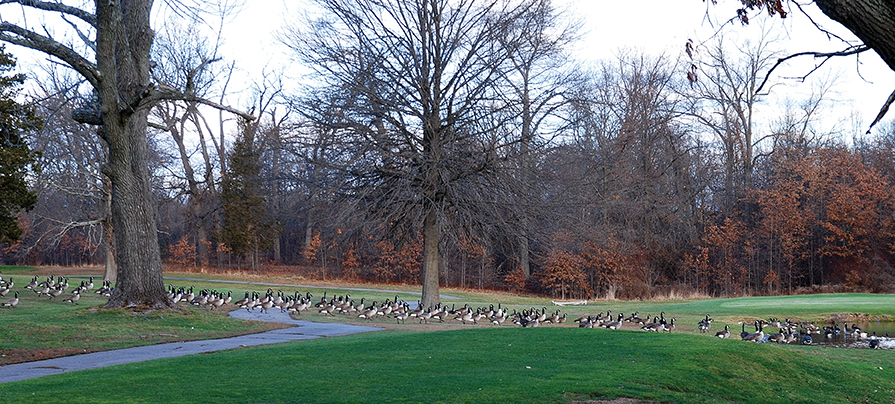 Image Credit: Getty Images/Xenia Cherepanova (illustration),  Getty Images/BrianEKushner (woodpecker).
Subscribe Today