Roasted Pork Tenderloin with Apples and Fennel
By Melody Tierney
Plump and ripe with sweetness, the apples and gourds are ready to tease the palate with new flavors and aromas—a genuine departure from summer fare.
Apples were first introduced to North America by the Colonists in the 17th century. The first orchard, it is believed, was planted in Boston. Prior to this, crabapples, native to North America, were harvested for jellies, preserves, pies, and cider by both the Native Americans and European settlers but because of their tartness required much sweetening. The Colonists also feasted on summer squashes and hard squashes such as pumpkins, acorn, and butternut. The hard fall varieties are easily stored for winter consumption and are packed with vitamins and minerals.
These recipes take advantage of the wonderful fall crops including apples, arugula, butternut squash, and fennel, teamed up with a roasted pork tenderloin…you're in for a feast!
Everyone loves a one pot meal…or in this case a sheet pan!
Roasted Pork Tenderloin with Apples and Fennel (Serves 4)
1¼ pounds pork tenderloin
2 bulbs of fennel
2 sweet-tart apples (ex. honeycrisp)
3 tablespoons whole grain mustard
1 tablespoon honey
1 teaspoon orange zest
1 tablespoon orange juice
1 teaspoon fresh thyme, chopped
extra virgin olive oil
salt and pepper
Preheat oven to 450°F with rack one third down from top.
Remove fronds from fennel and save for garnish. Slice fennel bulbs into ¼-inch thick slices. Peel and core the apples. Slice apples ½ inch thick. Toss with 1 tablespoon of extra virgin olive oil and a little salt and pepper to taste.
Rub the pork tenderloin with a light coat of olive oil and season with salt and pepper. On a rimmed baking sheet place the tenderloin in the center and arrange the fennel and apples around the pork.
Combine whole grain mustard, honey, orange zest, orange juice, and thyme in a bowl and whisk together. Brush the mixture over the pork and drizzle remaining over the apples and fennel.
Roast in oven at 450°F for 15 minutes. Switch oven to broil. Broil for approximately five minutes to brown up top of the pork. Check tenderloin internal temp with a thermometer. It should read 145°F.
Let pork stand for ten minutes before slicing. Enjoy!
Roasted Butternut Squash Salad with Warm Vinaigrette
1 butternut squash (approx. 1½ pounds)
2 tablespoons maple syrup
3 tablespoon cranberries (fresh or dried)
4 ounces arugula
½ cup walnuts, toasted
¾ cup freshly grated Parmesan
¾ cup apple juice or cider
2 tablespoons cider vinegar
2 tablespoons shallot, minced
2 teaspoon Dijon mustard
extra virgin olive oil
salt and pepper
Preheat oven to 400°F. Peel butternut squash and cut in ¾-inch cubes. Toss with 2 tablespoons of olive oil, maple syrup, and salt and pepper to taste. Place in roasting dish and roast at 400°F for 15–20 minutes, turning once during cooking, until tender. Add cranberries for the last five minutes.
For the dressing, mix apple juice, cider vinegar, and shallot in a small saucepan. Bring to a boil over medium heat, and cook until mixture is reduced to about ¼ cup (about 6 minutes). Remove from heat and whisk in mustard and ½ cup olive oil. Add salt and pepper to taste.
In a large bowl, combine roasted squash, arugula, walnuts, and Parmesan. Spoon warm dressing over salad, just to lightly coat (save any leftover dressing). Serve immediately. Enjoy!
Melody Tierney and her husband, Phil, were B&B owners in Southampton, NY, serving a signature breakfast. They earned Inn of the Month in Travel and Leisure magazine.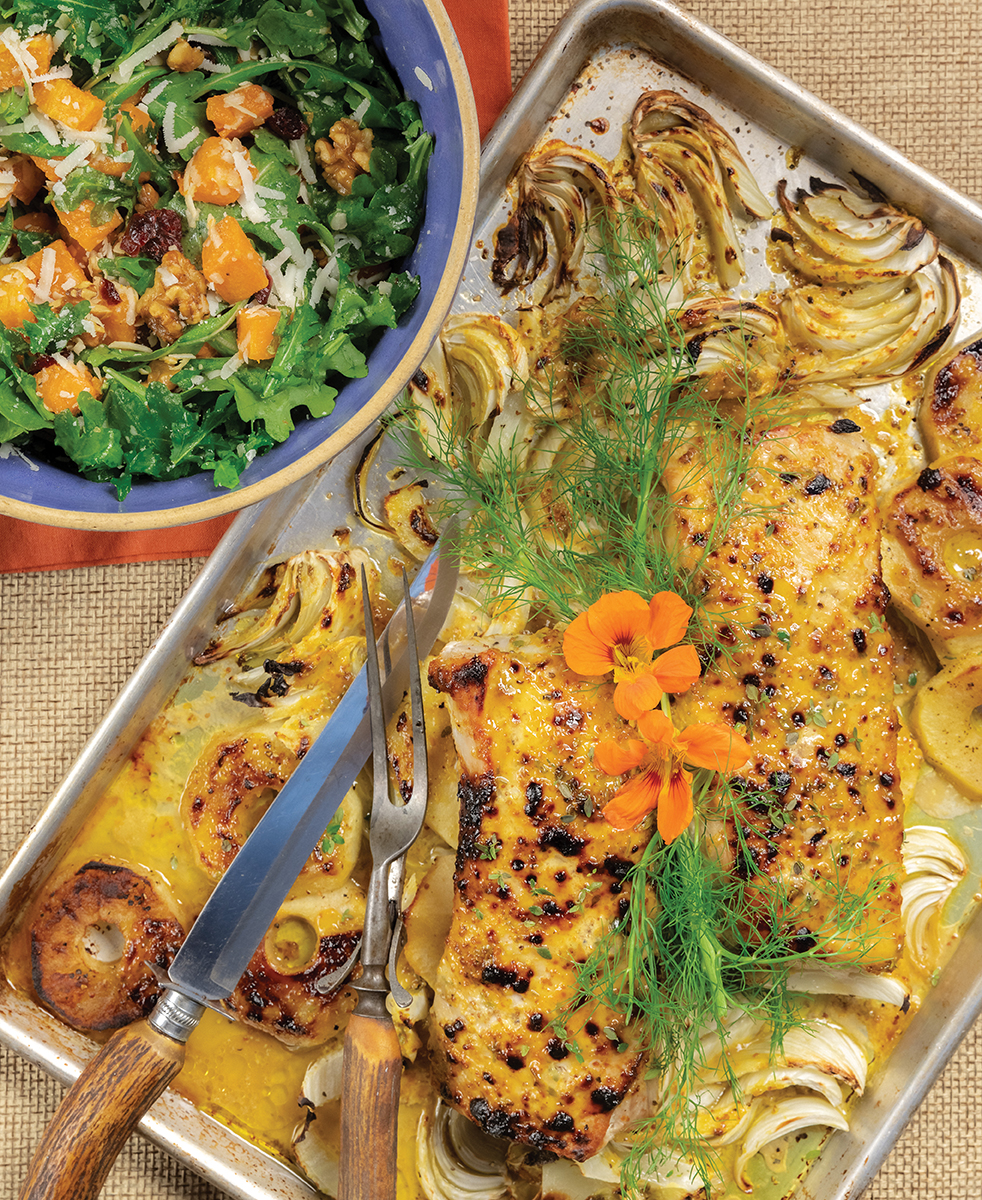 Photo credit: Christopher Zajac.
Subscribe Today