Fresh Grilled Corn and
Tomato Salad & Kebabs
By Melody Tierney
Yum yum summertime…and what better way to celebrate than to have a barbeque! Our choices are diverse, but let's focus on what's fresh and readily available at this time of the year. What comes to mind? … Corn and tomatoes, which can be prepared with a minimum of fuss…and what a delight to the eyes as well. We'll pair it up with some chicken kebabs for a wonderful lunch or dinner option.
Corn or maize, as it is known throughout the world, has been domesticated for some 10,000 years by Indigenous peoples. It's uses are so diversified, but food production for human consumption only constitutes 1/4 of its production. It is also important to note that it is the #1 grain in the world.
Let's grill up some corn and toss with some local tomatoes for a fresh, lively salad and serve alongside a marinated chicken kebab and a crisp glass of sauvignon blanc.
Chicken Shish Kebab (Serves 4)
1 ½ pounds boneless skinless chicken breast
2 tablespoons olive oil
1 ½ teaspoon of lemon juice
1 tablespoon dried oregano
Salt and pepper
Cut boneless skinless chicken breast into 1-inch cubes. In a non-reactive bowl (glass or stainless steel), mix together olive oil, lemon juice, dried oregano, and salt and pepper to taste, add chicken, and toss to coat. Thread on skewers (if using bamboo soak in water for a few minutes, so they don't burn on grill). Grill over high heat turning once…about 5 minutes 'til done. This can also be done in a grill pan on the stovetop.
Charred Corn & Tomato Salad
4 ears of corn, shucked
½ red onion, sliced
1 large red tomato or ½ pounds cherry tomatoes
2 ½ tablespoons extra-virgin olive oil
2 ½ tablespoons lime juice (or lemon)
½ cup fresh parsley leaves, chopped
4–5 fresh basil leaves, torn
Salt and pepper
Rub the ears of shucked corn with olive oil and grill, turning frequently, until charred all around…about 10 minutes. When cool, cut off cob and place in a bowl. Mix with sliced red onion (which has been rinsed in cold water and drained, to mellow the flavor). Add extra-virgin olive oil and one large, diced tomato or halved cherry tomatoes. Toss with fresh parsley or torn basil leaves, lime juice, and kosher salt and ground pepper to taste. (Note: Lemon juice can be substituted if serving with tzatziki sauce.)
Both salad and kebabs can be prepared one hour ahead of time and served at room temperature. Place kebabs skewers on top of or on the side of the salad on a large serving platter or individual plates.
Tzatziki Sauce
2 cups plain yogurt
1 cucumber
1 clove garlic, minced
¼ teaspoon dried dill (or ½ teaspoon fresh dill)
Salt and pepper
Put the yogurt in a strainer lined with a piece of cheese cloth or paper towel. Place the strainer with yogurt over a bowl to drain in the refrigerator for 15 minutes. In the meantime, cut the cucumber in half lengthwise and peel, seed, and grate. Combine grated cucumber with 1 teaspoon of salt and let sit for 15 minutes. Squeeze out liquid and return to clean bowl. Add drained yogurt, minced garlic, freshly ground pepper, and dill. Mix well. Serve drizzled over chicken and salad or on the side as a dip.
To jazz it up, this recipe can be converted to a souvlaki by serving on buttered and toasted pita bread with the tzatziki sauce.
Melody Tierney is an avid foodie and has enjoyed sharing her passion with friends and family for many years. She and her husband, Phil, were also bed and breakfast owners in Southampton, New York, serving up a signature breakfast every morning. This and their gracious hospitality earned them Inn of the Month in Travel and Leisure magazine.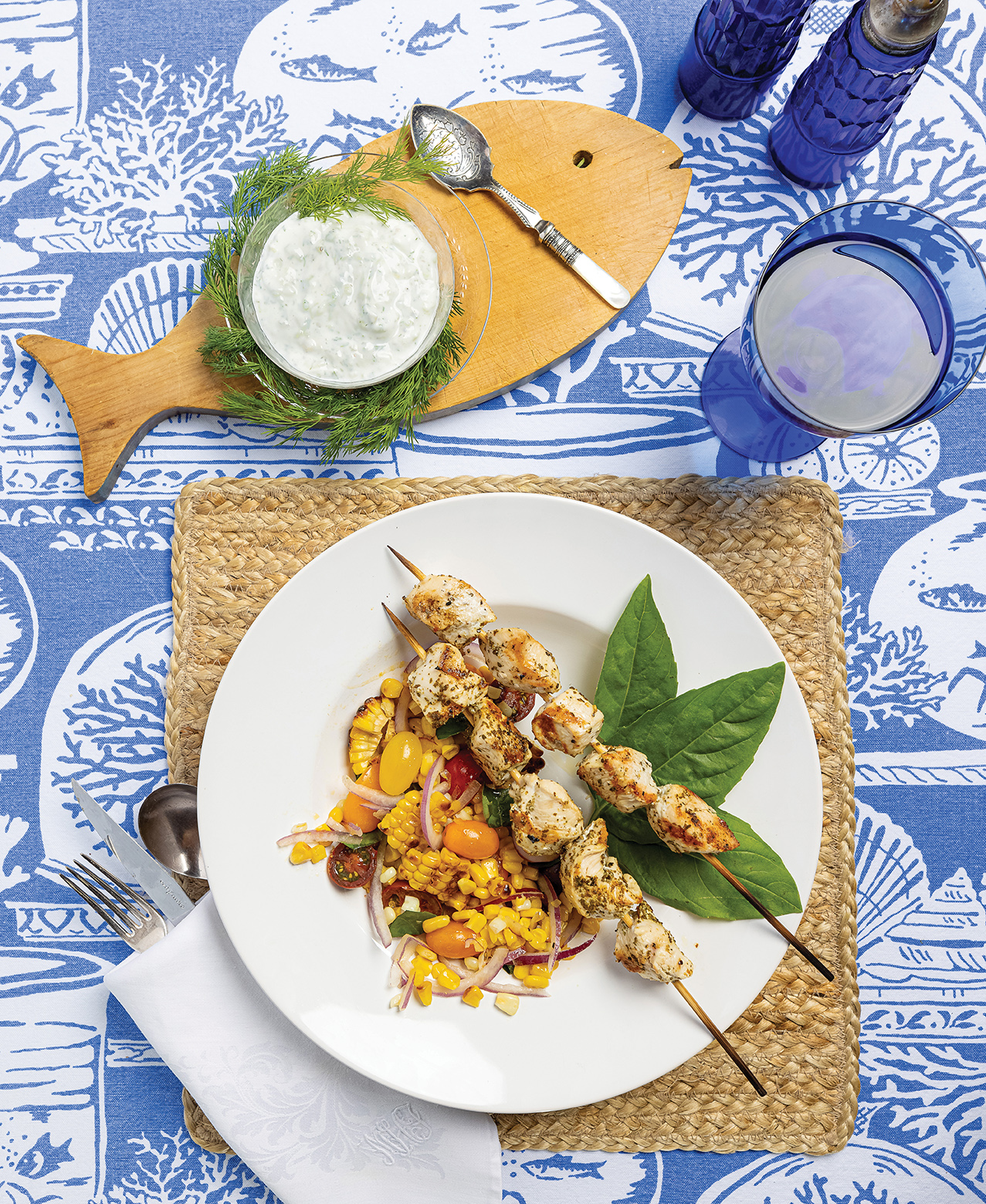 Photo credit: Christopher Zajac.
Subscribe Today