Take Me Fishing!
The joys of angling with your kids
By Edward R. Ricciuti
"Can you take me fishing?" If you are a parent who fishes, that request from your child may prompt the proverbial happy dance. Most anglers pray that their kids will follow in their waders. However, if you can't tell an improved clinch knot from a Windsor, or a yellow perch from a bullhead, you probably would rather be asked where babies originate. Without having done it, how does one explain the intricacies of threading a slimy red worm on to a No. 10 hook? Or, how to cast a line so the lure lands in the water, not in the grasp of a tree?
If you are among the uninitiated, fear not. There is help. All the states along the Connecticut River have programs designed to teach beginners—adults as well as kids—to fish. It's also a no-brainer to ask angler friends for advice. Or just head to a tackle shop. The people behind the counter in tackle shops readily dispense fishing secrets. The more people they hook on fishing, the more customers for them. Most guys who run shops are decent sorts who love to talk fishing. And don't be afraid to ask how to put a worm on a hook, or tie a knot.
Experienced anglers may have the know-how to teach for sure, but the old saw about having too much knowledge can apply if one is not careful. It is easy to fall into the trap of trying to make your child a juvenile bass pro the first day out. Fight the urge to get your kid into the biggest fish possible the first day out. For most kids, the first fish ever caught is the trophy of a lifetime.
Whether you are a veteran fisher or a duffer, remember that the ultimate angling experience for a child is not reeling in a record billfish, but simply catching something—anything outside of an old shoe—when dunking a worm. Don't forget that a child's attention span can be short and easily change focus—putting down the fishing pole to chase after a frog or looking at a water strider is part of the fun. If fishing becomes work rather than fun, it defeats the purpose.
It's a good idea to stick with freshwater fishing at first because it offers a wide variety of fish suitable for kids who are just starting out with rod and reel. This holds true for our region, the Connecticut River watershed. The Connecticut River and associated streams have plenty of spots easy to reach and to fish from shore with children. Freshwater is also best for beginners because the gear required is simpler, cheaper, and lighter. Equipment for kids should be basic and easy to use. That does not mean cheap. Junky rods and reels function poorly after just a little use. There is nothing worse for a child than trying to learn how to cast with a reel that malfunctions. Programs that teach children fishing skills often use easy-to-operate spincast rods and reels. The spincast reel releases line at the push of button, which is right under the thumb while the reel is held in hand. It takes a little digital dexterity to operate. Expect to spend between $30 and $50 for a quality rod and reel.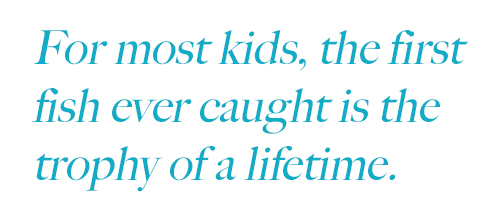 For general freshwater fishing in our region, you can't go wrong with six-to-eight-pound monofilament fishing line. Figure about $10 for sufficient line. Forget about filling a tackle box with costly lures. For beginners, a good choice is a rig of bobber, lead split shot for weight, and a no. 6 or no. 8 hook. Bait can be earthworms, mealworms, or crickets. If you are new to fishing knots, learn and use the simple "improved clinch knot." The internet is loaded with websites showing how to tie knots, set up rigs, and affix bait to hooks.
What fish to target first? "Sunfish," particularly the ubiquitous bluegill, say Thomas Bourret and Jason Wiggins, fishing gurus who run Connecticut's beginner fishing program. When hooked, a bluegill zigs and zags with abandon, enough to make the contest exciting but easy enough to land. If there are bluegills around, they often hit the moment a worm drops into the water. They bite so readily on bait that fishermen who are after bass or trout consider them a nuisance.
Easy to catch with a huge variety of baits from worms to marshmallows, channel catfish are another good bet for kids, says Bourett. Channel cats are hefty, too; fish typically caught in the Connecticut go between two pounds to several times that weight. Connecticut and Massachusetts have populations of channel catfish long naturalized in the Connecticut River. Fish from Massachusetts have expanded upriver and are showing up as far as Bellows Falls.
"I absolutely believe that the Connecticut River is a world-class catfish fishery," says Wiggins, who says he has seen many anglers taking cats up to 12 pounds from its waters. "It is a hidden gem."
When it comes to great places for kids to fish the Connecticut says Wiggins, "The first spot that comes to mind is Haddam Meadows State Park, on the main river near the center of Haddam. It is prime catfish territory and also a favorite spot for pike fishermen. Another top place for kids to fish," he says, "is at the Salmon State Boat Launch, where the Salmon meets the Connecticut in East Haddam."
"Retreat Meadows near Brattleboro and White's Cove at the mouth of the Black River in Springfield are two popular fishing areas that are well-suited for teaching kids to fish," says John Hall of the Vermont Fish & Wildlife Department's Outreach Division. New Hampshire's Fish and Game Department promotes Patch Park, Charlestown, and the Connecticut River Hinsdale Setbacks in Hinsdale as especially good places to take children to fish.
A fishing access area in the Hatfield section of the Connecticut River is one of several places on the main river in Massachusetts recommended as a good spot for beginners. Another—which draws a myriad of anglers in general, is the historic Oxbow Pond, state-controlled along its entire circumference (The Oxbow, part of the ancient riverbed that horseshoes off the main river in Northampton, was the subject of a famed painting by Thomas Cole, founder of the Hudson River School, in the 1830s).
Before heading out to the fishing hole, be aware that while fishing in public waters you may be approached by someone in a uniform asking to see your papers. You should check the appropriate state fisheries agency to determine license and perhaps special permits required under law. Kids under 16 years in Connecticut and under 15 years in Massachusetts, Vermont, and New Hampshire do not need fishing licenses. Make sure you have a copy of fishing regulations for the state in which you are fishing. Know size and creel limits and restrictions on tackle and bait. There is nothing like getting on the wrong side of a guy in uniform and wearing a badge to spoil a good day of fishing. And speaking of such, conservation officers—or game wardens to use a term from the past—are not out to get you, as long as you are not a violator. They are there to help and if you come across one while fishing, ask what's biting and where. Chances are you will get some good tips.
Ed Ricciutti is a veteran journalist and author. He writes mainly about nature. He has written for the Hartford Courant, Science Digest, Field & Stream, Wildlife Conservation, and Fly Rod & Reel. He has published 80 books. He practices what he has preached as he has fished and hunted all over the world. His stories smack of having "been there, done that."
Illustration Credit: Getty Images, intararit
Take Me Fishing!
The joys of angling with your kids
By Edward R. Ricciuti
"Can you take me fishing?" If you are a parent who fishes, that request from your child may prompt the proverbial happy dance. Most anglers pray that their kids will follow in their waders. However, if you can't tell an improved clinch knot from a Windsor, or a yellow perch from a bullhead, you probably would rather be asked where babies originate. Without having done it, how does one explain the intricacies of threading a slimy red worm on to a No. 10 hook? Or, how to cast a line so the lure lands in the water, not in the grasp of a tree?
If you are among the uninitiated, fear not. There is help. All the states along the Connecticut River have programs designed to teach beginners—adults as well as kids—to fish. It's also a no-brainer to ask angler friends for advice. Or just head to a tackle shop. The people behind the counter in tackle shops readily dispense fishing secrets. The more people they hook on fishing, the more customers for them. Most guys who run shops are decent sorts who love to talk fishing. And don't be afraid to ask how to put a worm on a hook, or tie a knot.
Experienced anglers may have the know-how to teach for sure, but the old saw about having too much knowledge can apply if one is not careful. It is easy to fall into the trap of trying to make your child a juvenile bass pro the first day out. Fight the urge to get your kid into the biggest fish possible the first day out. For most kids, the first fish ever caught is the trophy of a lifetime.
Whether you are a veteran fisher or a duffer, remember that the ultimate angling experience for a child is not reeling in a record billfish, but simply catching something—anything outside of an old shoe—when dunking a worm. Don't forget that a child's attention span can be short and easily change focus—putting down the fishing pole to chase after a frog or looking at a water strider is part of the fun. If fishing becomes work rather than fun, it defeats the purpose.
It's a good idea to stick with freshwater fishing at first because it offers a wide variety of fish suitable for kids who are just starting out with rod and reel. This holds true for our region, the Connecticut River watershed. The Connecticut River and associated streams have plenty of spots easy to reach and to fish from shore with children. Freshwater is also best for beginners because the gear required is simpler, cheaper, and lighter. Equipment for kids should be basic and easy to use. That does not mean cheap. Junky rods and reels function poorly after just a little use. There is nothing worse for a child than trying to learn how to cast with a reel that malfunctions. Programs that teach children fishing skills often use easy-to-operate spincast rods and reels. The spincast reel releases line at the push of button, which is right under the thumb while the reel is held in hand. It takes a little digital dexterity to operate. Expect to spend between $30 and $50 for a quality rod and reel.
For general freshwater fishing in our region, you can't go wrong with six-to-eight-pound monofilament fishing line. Figure about $10 for sufficient line. Forget about filling a tackle box with costly lures. For beginners, a good choice is a rig of bobber, lead split shot for weight, and a no. 6 or no. 8 hook. Bait can be earthworms, mealworms, or crickets. If you are new to fishing knots, learn and use the simple "improved clinch knot." The internet is loaded with websites showing how to tie knots, set up rigs, and affix bait to hooks.
What fish to target first? "Sunfish," particularly the ubiquitous bluegill, say Thomas Bourret and Jason Wiggins, fishing gurus who run Connecticut's beginner fishing program. When hooked, a bluegill zigs and zags with abandon, enough to make the contest exciting but easy enough to land. If there are bluegills around, they often hit the moment a worm drops into the water. They bite so readily on bait that fishermen who are after bass or trout consider them a nuisance.
Easy to catch with a huge variety of baits from worms to marshmallows, channel catfish are another good bet for kids, says Bourett. Channel cats are hefty, too; fish typically caught in the Connecticut go between two pounds to several times that weight. Connecticut and Massachusetts have populations of channel catfish long naturalized in the Connecticut River. Fish from Massachusetts have expanded upriver and are showing up as far as Bellows Falls.
"I absolutely believe that the Connecticut River is a world-class catfish fishery," says Wiggins, who says he has seen many anglers taking cats up to 12 pounds from its waters. "It is a hidden gem."
When it comes to great places for kids to fish the Connecticut says Wiggins, "The first spot that comes to mind is Haddam Meadows State Park, on the main river near the center of Haddam. It is prime catfish territory and also a favorite spot for pike fishermen. Another top place for kids to fish," he says, "is at the Salmon State Boat Launch, where the Salmon meets the Connecticut in East Haddam."
"Retreat Meadows near Brattleboro and White's Cove at the mouth of the Black River in Springfield are two popular fishing areas that are well-suited for teaching kids to fish," says John Hall of the Vermont Fish & Wildlife Department's Outreach Division. New Hampshire's Fish and Game Department promotes Patch Park, Charlestown, and the Connecticut River Hinsdale Setbacks in Hinsdale as especially good places to take children to fish.
A fishing access area in the Hatfield section of the Connecticut River is one of several places on the main river in Massachusetts recommended as a good spot for beginners. Another—which draws a myriad of anglers in general, is the historic Oxbow Pond, state-controlled along its entire circumference (The Oxbow, part of the ancient riverbed that horseshoes off the main river in Northampton, was the subject of a famed painting by Thomas Cole, founder of the Hudson River School, in the 1830s).
Before heading out to the fishing hole, be aware that while fishing in public waters you may be approached by someone in a uniform asking to see your papers. You should check the appropriate state fisheries agency to determine license and perhaps special permits required under law. Kids under 16 years in Connecticut and under 15 years in Massachusetts, Vermont, and New Hampshire do not need fishing licenses. Make sure you have a copy of fishing regulations for the state in which you are fishing. Know size and creel limits and restrictions on tackle and bait. There is nothing like getting on the wrong side of a guy in uniform and wearing a badge to spoil a good day of fishing. And speaking of such, conservation officers—or game wardens to use a term from the past—are not out to get you, as long as you are not a violator. They are there to help and if you come across one while fishing, ask what's biting and where. Chances are you will get some good tips.
Ed Ricciutti is a veteran journalist and author. He writes mainly about nature. He has written for the Hartford Courant, Science Digest, Field & Stream, Wildlife Conservation, and Fly Rod & Reel. He has published 80 books. He practices what he has preached as he has fished and hunted all over the world. His stories smack of having "been there, done that."
Illustration Credit: Getty Images, intararit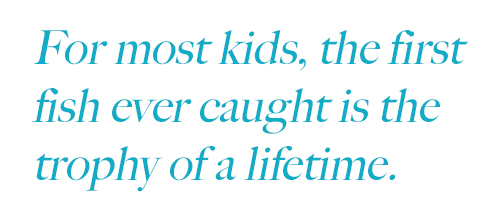 Subscribe Today