From the Book: Birding in Connecticut

♦ Ferry Landing State Park
♦ Great Island Boat Launch
By Frank Gallo | Wesleyan University Press
<h5>Ferry Landing State Park</h5>
Seasonal Rating: Sp *** Su *** F **** W ***
Best Time to Bird: Year-round
Habitat: Freshwater marsh, tidal wetlands, tidal rivers,
intertidal mudflats, thickets, coastal forest, boardwalk,
lawns, picnic area
Bird List for this Site: https://qr-creator.com/r/HgogrV
Specialty Birds
Resident: Mute Swan, Bald Eagle, Belted Kingfisher, Fish Crow
Summer: Green Heron (uncommon), Snowy and Great Egrets, Black Vulture, Osprey, Willow Flycatcher, Marsh Wren, Warbling Vireo
Winter: American Black Duck, Gadwall, Green-winged Teal, Great Cormorant (uncommon), Rough-legged Hawk (invasion years), Winter Wren, kinglets (some winters), Hermit Thrush, Brown Thrasher (uncommon); AmericanTree, Field, Fox, White-crowned, and Swamp Sparrows
Other Key Birds
Summer: Black-Crowned Night-Heron, Double-crested Cormorant; Rough- winged, Tree, and Barn Swallows; House Wren, Cedar Waxwing, Common Yellowthroat, Yellow Warbler, Chipping Sparrow
Winter: Loons, grebes, Yellow-rumped Warbler, Pine Siskin (invasion years), Purple Finch (some years)
Migrants Scaup (spring), Bufflehead, Common Goldeneye (spring), mergansers (spring), American Bittern (late fall), Eastern Towhee, Savannah Sparrow and other sparrows, thicketloving species, Rusty Blackbird (fall; uncommon)
Location: 398 Ferry Road, Old Lyme
Restrooms: On site (closed in winter)
Additional Information: The park is open from sunrise to sunset. The Connecticut DEEP Marine Fisheries office at 333 Ferry Road is open weekdays from 8:30 a.m. to 4:00 p.m. Some areas are wheelchair accessible.
The Birding
Ferry Landing Park is a small coastal preserve only a few minutes from I-95 that allows wonderful views of the lower Connecticut and Lieutenant Rivers and their wildlife-rich marsh complex. It is known locally as a place to find waders in summer and landbird migrants, especially in fall; it often holds thicket-loving species fall through spring.
How to Bird This Site
A 300-yard boardwalk on the park's southwest side leads south along the Connecticut River, passes under a railroad trestle, and ends at a raised platform overlooking the extensive tidal marshes and mudflats at the mouth of the Lieutenant River. Great Island, Saybrook Point, and the two Saybrook lighthouses can be seen to the south. This lovely boardwalk provides opportunities to view a wide variety of marsh- and water-birds throughout the year. In summer, watch for Clapper Rail, egrets, Green Heron and other herons, Glossy Ibis (uncommon), and shorebirds. American Bittern has been found in fall. Ospreys are abundant in summer, Rough-legged Hawks visit in some winters, and resident Bald Eagles frequent the area year-round. Loons, grebes—including the occasional Red-necked Grebe—and a wide variety of ducks can be seen fall through spring. Great Cormorant occur in winter, and Double-crested Cormorant in summer. Northern Rough-winged, Tree, and Barn Swallows are common spring through fall.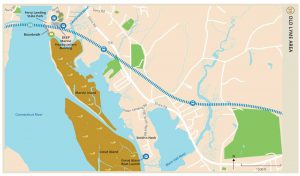 Great Island Boat Launch

Seasonal Rating: Sp ** Su *** F *** W ***
Location: 98 Town Landing Road, Old Lyme
Restrooms: Portable toilet on site
The Birding
The observation platform at the Great Island boat launch looks across to the Great Island marsh. The Great Island area, near the confluence of the Connecticut and Black Hall Rivers, is especially good for finding Osprey, Clapper Rail, waders, shorebirds—including nesting Willet and the occasional Whimbrel (uncommon)—Common and Least Terns, and Saltmarsh and Seaside Sparrows in summer. Spotted Sandpipers are fairly common nesters, while American Oystercatchers and Piping Plovers breed locally. American Bittern (uncommon) occurs in fall. It is also quite reliable for raptors in winter, especially Northern Harrier, Bald Eagle, and Rough-legged Hawk (in invasion years). Search for Short-eared Owl (uncommon) at dusk, especially in fall, and for Snowy Owl in winter. A variety of ducks frequent the area late fall into spring. Migrant landbirds drop into the trees along Town Landing Road, especially in fall, and the adjacent fields are worth checking for Eastern Meadowlark, American Pipit, and possibly Lapland Longspur or Snow Bunting, especially in winter.
How to Bird This Site
A scope is needed here, as Great Island is fairly distant. To check the fields, park by the platform, then walk back up the road.
Frank Gallo is author of the book Birding in Connecticut, published in 2018 by Wesleyan Press. This section of Mr. Gallo's book is reproduced here, edited for Estuary, with permission of Mr. Gallo and Wesleyan Press. You can find this book at www.hfsbooks.com/books/birding-in-connecticut-gallo/
Subscribe Today