A Treasured Refuge Becomes
Permanently Protected
By Bill Hobbs
Photography by Chris Zajac

People who enjoy the Fannie Stebbins Refuge can hike along its easy, wide trails and see a beautiful mosaic of pristine wetlands, ponds, meadows, and floodplain forest.
Alongside the Connecticut River, just a few miles south of Springfield, Massachusetts, is a 371-acre environmental success story, a jewel of a refuge, called the Fannie Stebbins Memorial Wildlife Refuge that will be a safe-haven for wildlife for generations to come.
This is a story about caring and tenacious residents and organizations, including a distinguished bird club, The Nature Conservancy, the town of Longmeadow, and two federal agencies. Together they forged innovative partnerships to raise money and manpower to reduce invasive plants on the refuge and reforest five old hay fields with 7,900 native tree seedlings, shrubs and ferns, creating the largest reforested floodplain on the Connecticut River.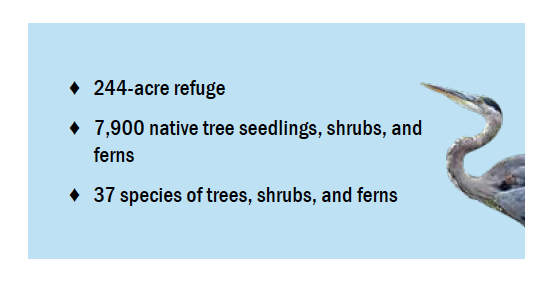 After completing an extensive restoration project, The Nature Conservancy will transfer the Stebbins property to the Silvio O. Conte National Fish and Wildlife Refuge, reaching their collective goal and safeguarding its future.
The 244-acre restoration area will be part of the US Fish & Wildlife-managed Conte Refuge's four-state network of protected lands. These protected lands now total about 38,000 acres.
The Conte Refuge was created in 1997 to protect the entire watershed of the Connecticut River. Parts of the refuge extend into Vermont, New Hampshire, Massachusetts, and Connecticut, including many creeks, streams, and tributaries.
People who enjoy the Fannie Stebbins Refuge can hike along its easy, wide trails and see a beautiful mosaic of pristine wetlands, ponds, meadows, and floodplain forest.
"It's so peaceful, you really are immersed in nature," said Cynthia Sommers, president of The Friends of Fannie Stebbins, an oversite group under the Conte refuge.
The Stebbins Refuge is home to nesting wood ducks, rare red-headed woodpeckers, numerous migrating birds, owls, hawks, an occasional bald eagle, including deer, coyote, bobcats, beaver, and river otters, to name a few species.
Enjoyed by hikers, birders, and photographers, alike, this newest addition to the Conte Refuge is the result of many caring women and men, who for over 70 years, endeavored to protect and preserve the property, and did.
One of the early champions of the Fannie Stebbins refuge was Kate Hale (formerly Kate Leary), a retired teacher and avid birder. "My love and appreciation for 'Stebbins' grew first from birding there with the Allen Bird Club, whose members began purchasing pieces of land and weaving them together in the early 1950s, to establish the Fannie Stebbins Memorial Wildlife Refuge," Hale explained in an email.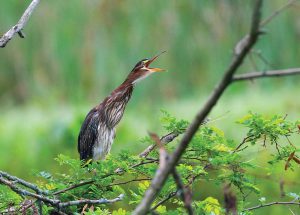 The Allen Bird Club that Hale mentions is the oldest continually operating bird club in Massachusetts. It was co-founded by Fannie Stebbins, who the refuge was later named after, and Grace Johnson on January 8, 1912. Fannie Adelle Stebbins (1858–1949) was herself a colorful person. Not only was she the supervisor of Springfield's Elementary School Sciences, but a respected birder.
In 1926, for example, Stebbins made the first regional sighting—rare then—of a glossy ibis. And in 1932, she recorded the second sighting in Massachusetts of a scissor-tailed flycatcher, a bird commonly found in Southwestern deserts.
After Stebbins passed, members of the Allen Bird Club named the refuge in her memory.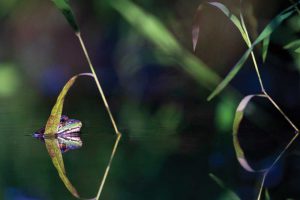 Hale, meanwhile, in the early 2000s, began to be concerned about the spread of invasive plants on the Stebbins property. She had taken classes from the New England Wildflower Society in Framingham, Massachusetts, and learned how native plants play a key role in blooming and attracting insects for migrating birds moving north in the spring, and fruiting for birds traveling south in autumn.
She also learned how exotic invasive plants, like Japanese knotweed, multiflora rose, bittersweet, barberry, and stiltweed can severely threaten native flora and fauna in preserves like Stebbins.
Hale made it her "personal mission" to put the Stebbins land under the care of a larger entity that would protect it in perpetuity.
In the spring of 2015, the Allen Bird Club formed a committee of five volunteers. They included Ray Burk, David Miller, Judy and Dudley Williams, and Hale. One of the first organizations they approached was The Nature Conservancy (TNC).
Markelle Smith, landscape partnership manager for TNC's Massachusetts Chapter and Andrew French, project leader for the Conte Refuge, toured the refuge and liked it, setting negotiations and a two to three-year restoration plan in motion.
Important pieces to the success of the restoration included several actions from major organizations.
For example, AMTRAK, which had a rail line running through part of the refuge, agreed to install signal lights and gates at a crossing on the north end. The town of Longmeadow, which owns conservation lands abutting the Stebbins property, repaved one of the access roads, graveled in a trailhead entrance, and leased a small parcel of land to USFWS to allow them to build a raised platform, ADA accessible, for outdoor classrooms and public viewing of the wetlands.
Steve Crane, Longmeadow's town manager noted, "We wanted to make sure our amenity is a benefit to our residents, and it is with this refuge."
Finally, The Nature Conservancy and US Fish & Wildlife Service devised a plan to reduce the number of invasive plants, strip five old hay fields down to bare earth and reseed them with 37 different species of trees, shrubs, and ferns.
David Sagan, a USFWS biologist, said, "In 15 years, we'll get a canopy from these tree seedlings that'll shade out the field tolerant invasive plants," killing them.
Generous funding came from the Massachusetts office of the Natural Resources Conservation Service, a federal agency that provided funding for the project under its Agricultural Conservation Easement Program. They contributed nearly a quarter of a million dollars to purchase a permanent easement on the Stebbins property, ensuring the property would remain undeveloped, and $411,000 to fund the restoration.
When French was asked for his final assessment of the collaboration, he said, "There's tremendous efficiency in partnerships, and invaluable relationships," adding, "We
executed a strategy that anyone of us could not have done by ourselves."
"This is a positive model for future environmental projects, and we want to do more of them," French said.
Bill Hobbs is a nature columnist for The Day in New London, CT. For comments, he can be reached at whobbs246@gmail.com.